Alexander Hamilton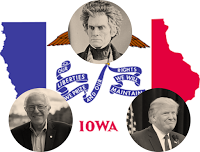 Health care is no longer about us. Health care is about waste, fraud and abuse. Health care is about "bending the curve". Health care is about global competitiveness of corporations. Health care is about carving up a $3 trillion opportunity. Health care is about private equity, mezzanine funding, return on investment, valuations and public offerings. Health care is about the economy, and the economy is no longer about us.
William J. Watkins | The Christian Science Monitor |
December 21, 2010
Several lawsuits over the health-care reform's individual mandate hinge on interpretations of the constitution's Commerce Clause. This clause is widely believed to grant Congress broad power over national markets. But that isn't what the founders had in mind. Read More »
Andrew Spannaus | ConsortiumNews.com |
April 13, 2017
With most of the media and political commentators focused on the Republicans' failed attempt to pass a healthcare bill, some of President Donald Trump's most significant words appear to have gone almost unnoticed. The President was away from the political fight in Washington on March 20, conducting one of his periodic attempts to sustain excitement among his base. At a rally in Louisville, Kentucky, Trump repeated his standard lines about putting America first, starting with economic policy....