Billy Mitchell
Billy Mitchell | Fed Scoop |
June 1, 2016
The Pentagon inspector general doesn't think the DOD can reach initial operational capability of its new $9 billion, "state-of-the-art" electronic health records system by December. The Defense Department's goal of having a pilot of its modernized electronic health record platform running by the year's end "may not be realistic," its inspector general said Wednesday...
Billy Mitchell | FedScoop |
April 27, 2017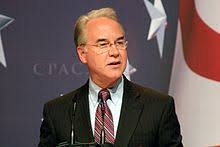 Health and Human Services Secretary Tom Price advocated Thursday for reducing the burden placed upon physicians and health care providers by the health technology that is otherwise meant to improve care for patients. Speaking at his first Health Datapalooza as the head of HHS, Price said the proliferation of health IT is something that "can have remarkably challenging and sometimes destructive consequences"...