Michigan Technological University (MTU)
Press Release | Michigan Technological University |
March 20, 2020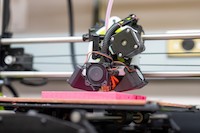 As COVID-19 continues to spread, the research community is looking for solutions. In addition to work on vaccines and medicine, medical technology is needed. In severe cases of COVID-19, the disease attacks the respiratory system, and one of the major bottlenecks in treatment is having enough ventilators. The open-source hardware community wants to change that. Joshua Pearce...an open-source hardware expert and co-editor-in-chief of HardwareX [explained] that 3D-printed lab hardware and other open-source tech can be cost-effective and encourages design improvement. "Even complex medical devices are not outside the realm of possibility anymore."
Te Edwards | 3DPrint.com |
December 18, 2014
Openpump, an open-source syringe pump made to dispense fluids over a set period of time, is just like the syringe pumps used to administer medication in hospitals and laboratory environments. Most often used to perform chemical or biomedical research, pumps like this open-source version could easily be used for 3D printing extrusion of paste or as part of a 3D bioprinter for outputting biological materials...