Oroville Hospital CEO Outlines How VistA Can Help Hospitals Survive the HITECH Act and Obamacare
Press Release | Oroville Hospital |
February 21, 2014
Speaking at the 28th VistA Community Meeting in Sacramento, CA, Robert Wentz laid out how Vista coupled with a reshaping of how care is delivered can sustains hospitals through the changes that Obamacare will bring to the healthcare system.
PRLog (Press Release) - Feb. 21, 2014 - OROVILLE, Calif.--Robert Wentz, President and CEO of Oroville Hospital, was one of the keynote speakers at the 28th VistA Community Meeting (VCM) in Sacramento, CA. Wentz's presentation, titled "Obamacare: a providers prospective. An opportunity for VistA and private sector Hospitals," outlined the clear advantages of using the VistA EHR as the United States moves towards a new health system based on Obamacare.
The conference, which took place at the University of California-Davis School of Medicine campus in Sacramento, January 17th to 19th, gathered leading members of the VistA community. In addition to Wentz, the conference was addressed by Dr. Paul Tibbits, Deputy CIO for Architecture and Design at the US Department of Veterans Affairs (VA), Dr. Seong Ki Mun, Chairman of the non-profit OSEHRA, Howard Hays, CIO of the Indian Health Service (IHS), Theresa Cullen, Chief Medical Informatics Officer (CMIO) of the Veterans Health Administration (VHA), and Stephen Oxley, Chief Medical Officer (CMO) of the Central Regional Hospital in North Carolina.
Wentz detailed in his presentation why VistA is the best option for private hospitals in the US that want to stay in business under the new rules created by Obamacare. Wentz described the major changes currently taking place in the healthcare industry as a result of Obamacare, both in terms of financial issues as well as patient/consumer side. One of the key concepts is that while the profits of the private sector insurance industry are going to go up, reimbursements for the care sector, in particular, private insurance reimbursements, are going to go significantly down.
Robert WentzThat means that some hospitals that are dependent on private insurance are going to see their revenues go down over the next three years while their patient load goes up. In order to stay in business, hospitals are going to have to rethink how to deliver healthcare. One of the key elements is becoming more efficient and cost-effective in the care that they provide.
According to Wentz, Oroville Hospital had the good fortune of implementing and modifying VistA which allowed them to increase their efficiencies, capture more of the billing charges for their procedures, and significantly increase the quality of care provided. In 2013 it captured an additional $7 million in charges it would have missed without its EHR system. Those very same capabilities have allowed the hospital to closely track the quality of care it provides its patients, giving hospital staff a clear insight as to how they can provide better care. This has been reflected in a large number of quality of care awards it is earning, as can be seen in this page. As an example, Wentz pointed out Oroville Hospital ranked #3 in pulmonary care among hospitals in California, far ahead of big-name hospitals. As a result, Oroville Hospital is in good shape to weather the major changes taking place in the industry.
This is not the case for hospitals that have implemented proprietary EHRs. As Wentz outlined, the costs of implementing and supporting proprietary EHRs is substantially higher than open source solutions.
Oroville Hospital, for example, has spent so far less than $8 million in the EHR component of their implementation for the 153-bed hospital and 20 clinics. In comparison, neighboring regional hospitals of similar size have averaged $25 to $30 million for basic EHR implementations. Wentz then detailed the challenges faced by hospitals that have gone the proprietary route.
Key challenges faced by proprietary EHR adopters include:
The high cost of proprietary EHR implementations.
The high cost of recurring licensing and upgrade fees that amount to 20% or more annually of the original cost of implementation.
The continued poor adoption rate of low-usability proprietary EHRs by staff.
Lack of integrated inpatient and outpatient systems (Health Information Exchanges (HIEs) are good but probably not good enough).
Cost Pressures.
Decreased provider rates from health plans.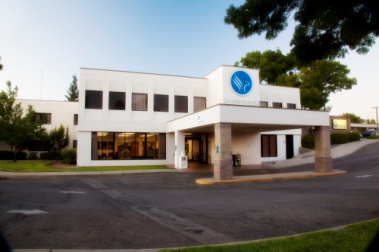 Oroville Hospital - Northern CaliforniaIn contrast to the proprietary EHR approach, the Oroville Hospital approach is based on what they refer to as "Hospital-Based Software Development." When Oroville Hospital started its efforts to acquire an EHR it wanted to have control of its own future. This was a different model. VistA allowed the hospital to adapt the EHR to its specific needs and develop its own internal capabilities to continue to improve VistA so that it addressed the needs of the hospital to tear down its information silos, to address the needs of its staff and improve the quality of patient care. According to Wentz, this is a sustainable business model for hospitals.
Key elements of the Hospital-Based Software Development model are:
Consult (this means listening to the staff and the needs of the stakeholders)

Functionality of EHR
Develop Enhancements

Develop New Products
Implementing the enhancements
Teach (continually educate all the users as well as teach key staff to work on the continuing development of the EHR)
Support (EHR help-desk staff as well as the programmers)
Flex to competing Hospital needs (multi-task)
Contribute the code to the open source community using the commercially-friendly Apache 2.0 license
Collaborate with other hospitals implementing VistA
In order to carry out its Hospital-Based Software Development strategy, Oroville Hospital created its own code development office. This office is led by Zach Gonzales and it includes a large number of well-known VistA developers as well as Oroville's own staff, including nurses and physicians, who have shown an interest in learning to develop and configure VistA so they can better take care of their own patients.
As a result of this strategy, unlike hospitals that made the mistake of implementing proprietary EHRs, Oroville Hospital does not have to pay steep annual licensing and upgrade fees. These fees average 20% of the original implementation cost. According to Wentz, neighboring regional hospitals are paying an average of $5 million a year in licensing fees. That is a cost that Oroville Hospital does not pay since VistA is open source software. In addition, the hospital does its own software configuration and customization for a fraction of what vendors charge (if the vendors ever get around it), and it has educated its whole staff on the use of the EHR, and continues to educate it, for a fraction of the cost that vendors charge.
In addition to contributing code to the VistA community, Oroville Hospital has also opened its doors to other hospitals looking to implement the award-winning EHR. It has opened its teaching facilities to staff from other hospitals interested in learning about VistA, it is increasingly collaborating with the VistA community in adapting the VistA enhancements it has developed so they can be used by others, and it is building a team that can help advise other hospitals on how to develop and carry out their own Hospital-Based Software Development strategy.
Wentz concluded in his presentation at the VistA Community Meeting in Sacramento, by emphasizing that hospitals that follow this model will be successful as the United States moves to a new healthcare delivery model. More details on the conference can be found in this article.

About Oroville Hospital
Founded in 1962, Oroville Hospital has grown from a modest community hospital supported by a small staff of dedicated doctors into a 153-bed acute care facility specializing in a broad range of inpatient and outpatient services, including multiple physician practices. Oroville Hospital is a private, non-profit corporation serving the citizens of the Oroville area and Butte County by OroHealth Corporation. With a medical staff of more than 130 physicians, Oroville Hospital prides itself on providing the highest quality medical care in a friendly and compassionate environment.
For more information, please contact:
Shanna Roelofson
Director of Marketing
Oroville Hospital
sroelofson(at)orohosp(dot)com
(530) 532-8044
www.OrovilleHospital.com