Beth Israel Deaconess Medical Center's Fellowship in Disaster Medicine
Press Release | American University of the Caribbean School of Medicine |
October 17, 2019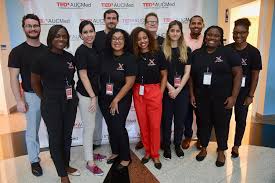 Ten speakers captivated a soldout audience at AUC's first TEDx event last Sunday. TEDxAUCMED brought together students and members of the Sint Maarten community for a 7-hour program of powerful and inspiring talks...The event theme, Weathering the Storm, was carefully selected as an homage to Hurricane Irma. Conference organizers chose talks that applied the theme both literally and metaphorically. "This event centers not only on the science of weathering the storm but the notion that we are capable of overcoming extreme adversity," Elizabeth Allison said during her opening remarks. "We hope today empowers you to weather your own storms." While some speakers gave harrowing accounts from the category 5 hurricane, others talked about medicine, art, and evolving global landscapes. In his opening talk, 4th semester student Yassin Nayel used a powerful patient story to punctuate the question: how can we achieve equal treatment of infectious disease worldwide?
American University of the Caribbean School of Medicine presents TEDxAUCMed, our inaugural TEDx conference. TED is a global community, welcoming people from every discipline and culture who seek a deeper understanding of the world. The theme of this year's event is "Weathering the Storm," and we are excited to present a diverse group of speakers whose insight and experiences will energize us to reflect on our world, our communities, and our own lives. The conference will be held in Lecture Hall 2. We are excited to bring the TEDx experience to AUC and the island of Sint Maarten and look forward to sharing in this experience with you.
The 2nd Annual CCDM International Conference on Disaster Medicine and Hurricane Resiliency will gather professionals and experts from around the world to share insights and expertise on preparing for and managing disasters, building disaster management capacity, and educating and training in the health professions. We are once again excited to collaborate on this event with Harvard Medical Faculty Physicians of Beth Israel Deaconess Medical Center and our regional partners in Sint Maarten and the Caribbean.