Glynn Moody
Glynn Moody | TechDirt |
March 18, 2016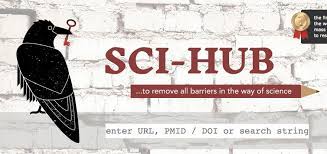 Last month, Techdirt wrote about the growing interest in Sci-Hub, which provides free access to research papers -- more than 47,000,000 of them at the time of writing. As Mike noted then, Elsevier's attempt to make the site go away by suing it has inevitably produced a classic Streisand Effect, whereby many more people know about it as a direct result. That was first pointed out by Mike Taylor in a short post, where he listed a few titles that had written about Sci-Hub. This week, David Rosenthal has produced a kind of update, listing many more posts on the subject that have appeared in the last month alone.
Glynn Moody | TechDirt |
March 15, 2016
Although the benefits of sharing big datasets are well-known, so are the privacy issues that can arise as a result. The tension between a desire to share information widely and the need to respect the wishes of those to whom it refers is probably most acute in the medical world. Although the hope is that aggregating health data on a large scale can provide new insights into diseases and their treatments, doing so makes issues of consent even trickier to deal with. A new study of Parkinson's disease from Sage Bionetworks, which describes itself as a "non-profit biomedical research organization," takes a particularly interesting approach. Unusually, it used an iPhone app to gather data directly from the participants...