medical practice management solution
Press Release | OpenEMR Consortium |
June 14, 2017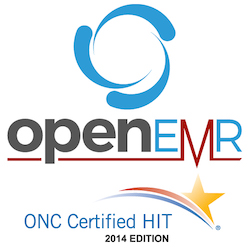 According to a recent Request for Information from the United States Coast Guard (USCG), the maritime branch of the U.S. Armed Forces is conducting market research of sources capable of providing a computerized, integrated Electronic Health Record solution for replacement of the USCG manual paper health records at 114 ashore sites (clinics and sick bays) and 62 afloat sick bays. The requested scope of the EHR by USCG is broad and includes primary care, urgent care, counseling, occupational health, and dental care.
Press Release | OpenEMR |
May 30, 2018
OpenEMR, the most popular open-source electronic health record and medical practice management solution, now offers a full panel of easy to install packages on Amazon's Cloud Services. In 2017, OpenEMR released its first Amazon Cloud Services offering, OpenEMR Cloud Full Stack, with the goal of enabling Enterprise use of OpenEMR. However many clinics and academic settings did not require the complexities of a large-scale full cloud offering and/or HIPAA eligibility. The OpenEMR community realized that a one size fits all Amazon cloud service approach could not address the vast range of different requirements and workflows in modern-day clinical and academic settings.
Press Release | OpenEMR |
March 26, 2018
OpenEMR...announces support for a web-based medical image visualizer within a patient record. Digital Imaging and Communications in Medicine (DICOM) is a de-facto standard for storing medical imaging data from MRI, CT, and X-ray systems. It is used in essentially all fields of medicine including radiology, cardiology, oncology, and dentistry and can be found in hospital, clinic, and laboratory settings alike. By using a capable open-source, web-based DICOM image viewer, OpenEMR provides clinicians a quick, secure, and robust view into patient images with windowing, panning, zooming, and filtering support.