medication management app
Press Release | Apple |
June 4, 2018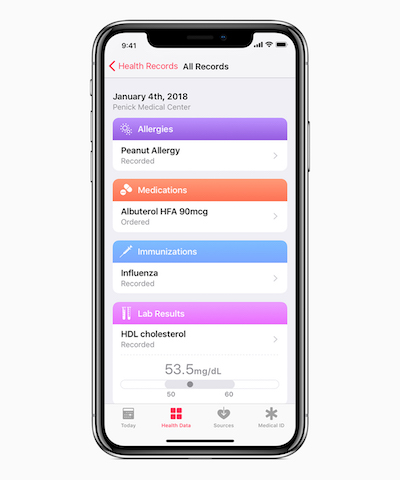 Today Apple delivered a Health Records API for developers and researchers to create an ecosystem of apps that use health record data to better manage medications, nutrition plans, diagnosed diseases and more. The Health Records feature allows patients of more than 500 hospitals and clinics to access medical information from various institutions organized into one view on their iPhone. For the first time, consumers will be able to share medical records from multiple hospitals with their favorite trusted apps, helping them improve their overall health.
Staff Writer | mHealth Intelligence |
January 18, 2017
An agreement to promote interoperability between three of the largest and most competitive EHR platforms has set the stage for a breakthrough in mHealth medication management. Using the SMART on FHIR app platform, providers will be able to access a patient's entire medication history no matter where that data is stored. While this opens the door to better care management and coordination, it also gives patients the mHealth tools to manage their own care and collaborate with their doctors...
Eric Wicklund | mHealth Intelligence |
May 25, 2016
A recent study finds that more than 70 percent of family and friends providing care to a loved one at home are interested in using mHealth technology to support their caregiving tasks, and roughly 60 percent would use whatever's available now. But only 7 percent are actually using it. This disconnect is often seen as a missing link in developing mHealth for the senior population – and a missed opportunity to reach what's expected to be 45 million Americans caring for some 117 million people by 2020...