NHSbuntu
Jon Hoeksma | Digital Health |
May 17, 2017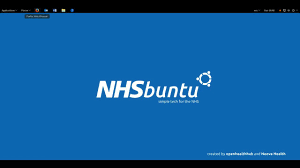 In the wake of Friday's international cyber attacks, which caused widespread disruption across NHS organisations, a small team of developers is recommending the health service reduce its reliance on Microsoft. The NHS almost exclusively uses Microsoft operating systems, some of which – like Windows XP – are no longer officially supported. To demonstrate that there is a licence-free alternative, GP Marcus Baw and technologist Rob Dyke have adapted the open source Linux-based Ubuntu operating system specifically for the NHS...
Maxwell Cooter | The Register |
June 30, 2017
A quiet revolution has been rumbling in Leeds, in the north of England. It may not seem revolutionary: a gathering of software developers is scarcely going to get people taking to the barricades in these uncertain times, but the results of this particular meetup could shape access to NHS PCs in the coming years...