Public Library of Science
June Javelosa | Futurism |
April 8, 2017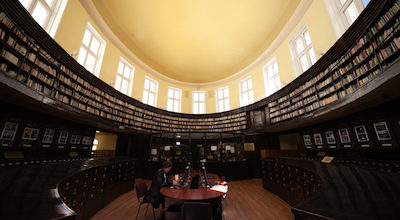 The Initiative of Open Citations (140C) announced today that science papers' reference lists will now be accessible to anyone. As explained on their website, "citations are the links that knit together our scientific and cultural knowledge. They are primary data that provide both provenance and an explanation for how we know facts. They allow us to attribute and credit scientific contributions, and they enable the evaluation of research and its impacts. In sum, citations are the most important vehicle for the discovery, dissemination, and evaluation of all scholarly knowledge"...
Press Release | Mozilla |
April 6, 2017
Today, Mozilla is announcing support for the Initiative for Open Citations (I4OC), an effort to make citation data from scholarly publications open and freely accessible. We're proud to stand alongside the Wikimedia Foundation, the Public Library of Science and a network of other like-minded institutions, publishers and researchers who believe knowledge should be free from restrictions. We want to create a global, public web of citation data — one that empowers teaching, learning, innovation and progress. Read More »
By Dr. Joshua Pearce | April 22, 2018
Twenty years ago, even staunch proponents of free and open source software like Richard Stallman questioned the social imperative for free hardware designs. Academics had barely started to consider the concept; the number of papers coming out annually on the topic were less than could be counted on someone's fingers. Not anymore! Not only has the ethical authority of Stallman embraced free hardware and free hardware design, but so has the academic community. Consider the graph below, which shows the number of articles on open source hardware indexed by Google Scholar each year from 2000 to 2017. In the last 17 years, the concept of open source hardware has erupted in ivory towers throughout the world. Now more than 1,000 articles are written on the topic every year.