US Department of the Treasury
A new report from the Trust for America's Health minces no words. President and CEO John Auerbach charges: COVID-19 has shined a harsh spotlight on the country's lack of preparedness for dealing with threats to Americans' well-being. Years of cutting funding for public health and emergency preparedness programs has left the nation with a smaller-than-necessary public health workforce, limited testing capacity, an insufficient national stockpile, and archaic disease tracking systems - in summary, twentieth-century tools for dealing with twenty-first-century challenges.
Press Release | Open Source Security Foundation (OpenSSF) |
September 13, 2023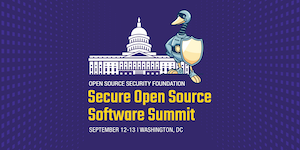 The Open Source Security Foundation (OpenSSF), a cross-industry initiative of the Linux Foundation that focuses on sustainably securing open source software (OSS), brought together US Government (USG) officials from the National Security Council (NSC), Office of the National Cyber Director (ONCD), and the Cybersecurity and Infrastructure Security Agency (CISA) among others with industry leaders at the Secure Open Source Software (SOSS) Summit 2023. Participants at the Summit discussed the security challenges for the consumption of OSS in critical infrastructure sectors and beyond and highlighted the shared responsibility needed to ensure the resilience of OSS in critical infrastructure.