OpenMRS Conference in Uganda Redefines Global Health IT Collaboration
The largest global OpenMRS meetup to date shows the way for the open health community to collaborate with governments to improve medical care,
Hundreds of developers and health experts gathered in Uganda this past December to attend the OpenMRS Implementers conference. This event has in many ways redefined the global health IT landscape. This is the first OpenMRS conference that has been officially sponsored by the government of a nation, setting the stage for future conferences that can bring together open source developers and government officials to build national health IT solutions. The December conference was hosted by the Ministry of Health of Uganda. The government of Uganda has been building their health IT expertise over the past decade and decided to host the conference so they could bring the world's leading OpenMRS experts, together with Ugandan health IT experts, to address the challenges they are facing in turning OpenMRS into a national health IT solution.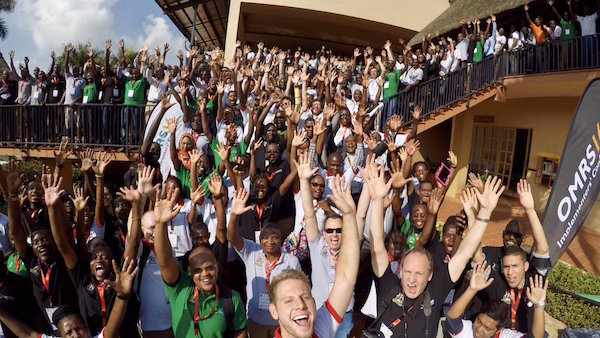 Attendees of the 2016 International OpenMRS Implementers' Conference pose for a group photo. Credit-OpenMRS
The conference was held at the amazing Speke Resort Hotel in Kampala from December 6th through the 11th. Over 400 participants from 26 different countries gathered near Lake Victoria to share their experiences, lessons learned, success, and challenges faced using OpenMRS in their countries. This meeting was the 11th OpenMRS global summit since the inaugural event in Cape Town, South Africa in 2006.
During the six-day event, there were planned as well as unconference-style sessions, lightning talks, product demonstrations, breakout sessions, and a hackathon to conclude the conference. The topics of the unconference sessions were decided during the planning session that took place on the first day of the conference. This process ensured that the most critical topics for the OpenMRS community were addressed and discussed during the conference. Participants praised the unconference session format because of the dynamic, participant-driven approach that leveraged the plentiful wall space in the magnificent Victoria Ballroom. Following suit, the lightning talks were proposed in advance of the conference as well as during the conference, and provided spontaneity for other topics to be presented and discussed.
This conference sets the stage, and perhaps the model, for future OpenMRS conferences. There are over a dozen countries currently engaged in national-scale OpenMRS implementations throughout government-run and supported medical facilities, and another two dozen countries where large-scale private sector medical facilities are implementing OpenMRS. There are challenges unique to each country as they build their national health IT systems on OpenMRS. If another country hosts the annual OpenMRS implementers' Conference they will be able to tap into the vast knowledge and capabilities of the entire community in a local setting as Uganda did.
Opening Ceremony
The opening ceremony for the 2016 Implementers' Conference featured several keynote speakers including Dr. Eddie Mukooyo, Assistant Commissioner of Health Services for the Ministry of Health of Uganda, and OMRS16 Conference Chair; Paul Biondich, Co-founder of the OpenMRS project and current Project Lead; Professor William Bazeyo, Dean of Makerere University School of Public Health and Principal Investigator METS; Dr. Sarah Byakika representing the Ministry of Health of Uganda; and Moses Bagyendera National Program Office/Public Health Informatics from the World Health Organization (WHO). The opening ceremony concluded with a special award given to Dr. Paul Biondich and Dr. Burke Mamlin of OpenMRS for their courage and dedication to improving healthcare delivery in developing areas.
The first day of the conference was very busy. It served to:
Highlight the goals and direction of OpenMRS for 2017.
Provide a crash course on the OpenMRS Ecosystem for beginners.
Lay out the philosophy of the open source community.
Propose and vote on the unconference sessions for the week.
Address the current needs of the OpenMRS community and the support needed.
Address the moral imperative we have to alleviate human suffering by improving healthcare delivery and helping improve policy.
Discuss how OpenMRS affects change in public health through by providing health analytics for policy makers to make informed decisions affecting their countries.
How OpenMRS can serve to provide education in Health Informatics.
The day concluded with a plenary session discussion on how the community can improve OpenMRS, the implementation of identity management through fingerprinting technology, and Uganda's Monitoring and Evaluation Technical Support (METS) program and its influence in Uganda and Africa as a whole.
OpenMRS in Uganda
Uganda is one of the member countries of the international OpenMRS community, and is currently using OpenMRS in over 520 medical facilities across the African nation. Uganda has set a target of scaling the system to more than 1,000 medical facilities by the end of 2017. OpenMRS was initially embraced in Uganda in 2008. Uganda's Ministry of Health (MoH) started actively using OpenMRS in 2011 as a way of bridging the gaps in medical records management across the country. During the conference, the Government of Uganda announced that OpenMRS will be the nation's official EMR.
Following its successful initial launch in 2011, Uganda's health ministry shared their scale-out model with other implementing sites. Using this method, Uganda scaled up UgandaEMR, the name for Uganda's version of OpenMRS, from 323 to 513 sites in a period of just eight months. In addition, there are dedicated developers from Jembi, a leading African OpenMRS solutions provider, and the Regenstrief Institute, committing code to OpenMRS. Active participation of Ugandan developers in the core OpenMRS code base makes it easier for other Ugandan OpenMRS implementers to learn from them and allows them to contribute code back to the system.
The Uganda Ministry of Health, with technical support from METS, has dedicated time and resources to scale the system up from 513 health facilities to 1,000 facilities by the end of 2017. In order to implement OpenMRS in rural facilities METS first ensures that the infrastructure is in place. Most of these facilities lack electricity and computers, depending largely on paper-based records. As a first step, METS procures, and installs solar power arrays and computers. METS receives support from the US Centers for Disease Control (CDC) in this effort. In addition, implementing partners, funded by the US Agency for International Development (USAID) and CDC, have been carrying out OpenMRS training classes throughout Uganda in collaboration with METS and MoH. In the process of implementing OpenMRS throughout the country, Uganda's OpenMRS team is in the process of adapting OpenMRS for the country's unique needs by developing a series of open source add-on software modules that are unique to the needs of their medical systems.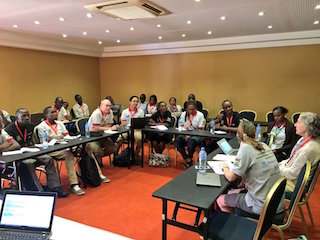 OpenMRS Certification Program sessionA national forum, known as the UgandaEMR community, was created to share experiences and issues encountered by various adopters and users in Uganda. The forum is named after the customized Ugandan OpenMRS platform being deployed in the country. This collaborative process has gone a long way in strengthening the usability of OpenMRS in Uganda.
Uganda had an immense gap in records management and was eager to share ideas on best practices with other implementers and to learn from those that have excelled in using the system. Hosting the OpenMRS conference gave Uganda's Ministry of Health and the Ugandan OpenMRS community an ideal opportunity to learn best practices being used in other countries and to acquire a wealth of information that is going to help them close the records management gap.
During the conference, Uganda gained exposure to the use of health systems to improve health care from large-scale OpenMRS implementations in other countries. In addition, the district teams including a District Health Officer, District Biostatisticians, HMIS Focal Persons, and Records Assistants were given an opportunity to learn how OpenMRS implementers in other countries gain user-acceptance of the system. The Uganda EMR implementation showed the impact of better service provision and record keeping at the facility level. As a result of this, the MoH, WHO, and DFID have continued to support the proposed extensive implementation of OpenMRS within Uganda.
Conference Sessions
Individual sessions at the conference addressed a wide range of topics. These included: cloud-based OpenMRS deployments; the OpenMRS platform; data quality process support; client-side technologies; AngularJS; usability; data warehousing and ETL structures; using OpenMRS beyond HIV (e.g. oncology); case-based surveillance and public health uses; and integrating of DHIS2 and other applications (such as Lab Book) into OpenMRS. These sessions showed the value of the unconference format; allowing bidirectional sharing of information between multiple participants.
DHIS 2 Integration
DHIS2 is the preferred health management information system in 47 countries and 23 organizations across four continents. DHIS2 helps governments and health organizations to manage their operations more effectively, monitor processes and improve communication. With DHIS2 you can capture data on any type of device, including desktops, laptops, tablets, smartphones and feature phones. Most solutions work-offline, enabling improved reach in locations with poor connectivity.
The 'DHIS2 Integration' session, lead by Jonathan Mpango of METS, focused on how aggregate data can be transferred from OpenMRS into DHIS2. Work has been completed to standardize exchanging data in this instance (SDMX-HD), while there has also been work on an integration module using ADX. The importance of having a standard process and format for this data exchange was highlighted by many participants at the conference. To learn more about the DHIS2 Integration of OpenMRS, please go to om.rs/dhis2.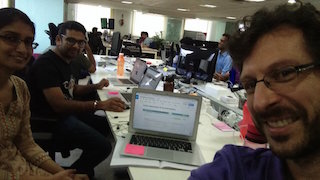 Working on the user interfaceOpenMRS Usability
The 'OpenMRS Usability Session' was kicked off by attendees who listed their concerns about usability. This session discussed the role of usability and human factors in design and execution of user interface as well as the need for input from nurses, doctors, lab techs, and statisticians in human design. Different modeling tools were presented to assess and improve usability, including using animated cards as well as sketching solutions to create user interfaces for usability evaluation.
OpenMRS Cloud Deployments
This session focused on deploying 'OpenMRS in the cloud. It included presentations from Mekom Solutions and SATMED.
Mekom Solutions is an OpenMRS service provider and implementer that provides medical facilities with tailored, affordable and easy-to-learn OpenMRS solutions. Their solutions are based on the Bahmni and Reference Application distribution.
SATMED is a satellite-based eHealth communications platform. It is designed to provide eHealth solutions to remote, resource-poor areas of emerging and developing countries. Mekom has a cloud-based deployment in Laos, where the OpenMRS Platform and Reference App 2.0 is deployed. This solution has been running for the last 18 months, with facilitated software upgrades and remote support.
During the presentation, SATMED demonstrated various ways to deploy OpenMRS in remote areas. SATMED deployments include multiple applications (including OpenMRS) and have been deployed in several countries such as Bangladesh, Benin, Eritrea, Niger, Philippines, and Sierra Leone.
.
Concept Management within OpenMRS
Andrew S. Kanter, MD MPH led a session called 'Concept Management within OpenMRS.' This session described the value of 'concepts' within OpenMRS data dictionary and the ability to use terms to record both questions and answers. Concepts are one of the main values of OpenMRS as every piece of information that is stored in the database is assigned a clear code and definition.
Concepts can be diagnosed, procedures, physical exam findings or any other class of information. Concepts are rolled into groupings with similar semantic meanings, with the current goal of supporting centralized concept management: each concept is assigned a unique number, and a single concept can be mapped to multiple reference terminologies (like ICD-10 and SNOMED ® CT).
Sharing terminology facilitates decision support across multiple implementations and sharing of reports and results. Dr. Kanter also outlined the tools available for sharing concept dictionaries including the Columbia International eHealth Lab (CIEL) and the Open Concept Lab (OCL).
OpenMRS for Mobile health IT
One of the major topics of discussion at the conference was how to leverage OpenMRS for mobile health IT. OpenMRS has an Android Client, which works with the Reference Application, and it has improved significantly over the last year.
The Bahmni distribution has a mobile extension called Bahmni Connect (see 'Project Bahmni' section below).
Additional mobile applications were discussed, including the Open Smart Register Platform (OpenSRP), an open source mobile health platform that allows frontline health workers to electronically register and track the health of their entire client population; and the Community Health Information Tracking System (CHITS), an mHealth application built on OpenMRS used in the Philippines that generates mReports.
The concept of optimizing OpenMRS for multiple sites was important to many implementations because managing transitions of patients effectively is a growing concern. A 'sync module' running on remote sites was proposed as a possible solution. However, in order to be effective, Management must address patient identification and solutions for the issues surrounding unique IDs.
OpenMRS Beyond Clinical Care
Another major discussion centered around using OpenMRS for clinical care in addition to HIV. Partners in Health shared their 'Order Set Module' that supports oncology orders while ThoughtWorks, an international tech company which provides software design and delivery, and pioneering tools and consulting services discussed bringing care-plans into OpenMRS, lead by Gurpreet Luthra. Components that are needed to support chemotherapy include: order sets, flowsheets, support for cycles of treatment, and concepts/forms that can be used by and with oncologists and patients. Johnblack Kabukye, MD, an Oncologist at Mulago Hospital in Uganda, has indicated an interest in establishing an Oncology working-group to support this new clinical domain within OpenMRS.
Public Health and Case-Based Surveillance
One of the sessions focused on the need for case-based surveillance. Case-based surveillance is dependent upon identifying unique cases, unique patient IDs, the ability to interlink datasets and a need to track sentinel events. Many sentinel events exist, including the development of HIV, CD4 counts, viral loads, treatment failure, and switching to second-line therapy. The goal of case-based surveillance is to ensure that appropriate reports can be generated and used to inform and track care.
Shruthi Pitta from Bahmni talks about Bahmni distribution.Project Bahmni
The team from ThoughtWorks presented several sessions on Bahmni — an open source, general purpose OpenMRS distro developed by the ThoughtWorks Global Health team for clinics and hospitals in low-resource settings,
They introduced the newly released Bahmni Connect mobile app that allows community health workers to register patients and fill forms from remote areas without internet access. They shared the 2017 Bahmni roadmap, which included major features around care plans, a hub-and-spoke model for supporting satellite clinics, IPD enhancements, a new form designer and lighter weight Bahmni installations. More details of the roadmap are here.
The team helped conduct a roundtable discussion on making OpenMRS Implementations faster. They also demonstrated Bahmni to the audience, offering a closer look at the features and flexibility built into the system. A significant amount of Bahmni development folds back into the OpenMRS Platform and Reference Application, as Bahmni uses OpenMRS for its EMR platform.
Education
The 'Education Session' was one of the most attended sessions. The main focus of this session was to come up with strategies on how to develop specific training materials that are role-based i.e. implementers role, the developer role, etc.
A number of issues were discussed on how this should move forward, including; formal and non-formal training, the duration for both formal and non-formal training, and the curriculum for both. There wasn't enough time in the session to work on all the proposed solutions, so the team agreed to meet online and conduct a number of University sessions to push this forward.
The team is committed to identifying the implementer needs as well as draft training materials by the end of March 2017.
When completed, the training materials should:
Increase understanding and utilization of OpenMRS and related health information technology.
Improve the OpenMRS development process through improved access to training and certification.
Ensure that community members have access to training in OpenMRS and Health Information technology.
Site Visits
During the week-long conference, participants were invited to visit some of the 520 clinics within Uganda using OpenMRS to benefit thousands of patients each day. This allowed the conference participants to see how their work is being used on the ground and how lives are being positively affected by improved healthcare delivery.
These site visits gave the developers the opportunity to visually see their meticulous work put to use and to also identify areas of further need and development. Each group had the chance to interact with the providers at the facilities and were able to ask very specific questions regarding implementation and usage. These questions lead to incredibly productive conversations that allowed unique ideas to be proposed and commented upon immediately; bypassing a major challenge when working remotely and with facilities that might not have consistent internet access. The service providers at the health facilities were equally impressed that they were meeting the people that developed or contributed to the development of the system they were using to improve patient care.
Community Voices
The attending participants at the 2016 International Implementers' Conference had incredible things to say regarding what they learned and how they're using OpenMRS in their community. Below are some of the quotes:
"Out of 5 conferences I have attended so far this one was the best! The conference was well organized and really friendly; I would say unconference sessions part was better than GSoC sessions. People were well prepared for the topics and they knew what they wanted to get out of it. OpenMRS team was concerned and involved in everything and made sessions fruitful. Hackathon was a bit unplanned but I hope next time we can make it better. For next conference we can also make tea arrangements better. " - Maimoona Kausar, Pakistan
"This is my first conference and I'm very excited because a lot of pros from different healthcare technologies are here and I'm getting the chance to meet them. I'm here because I want to spread awareness in the most remote places of Nepal. The unconference style is new to me and it's so exciting. There are different groups that share different experiences and technologies." - Sanjaya Poudel, Nepal
"I enjoyed the sessions. I learnt a lot about OpenMRS and Bahmni. And now I perfectly sure of which distribution I need to start an OpenMRS implementation here in Cameroon." - Ivange Larry
In Conclusion - Closing Ceremony
The final day of the conference concluded with a wonderful awards ceremony where the hard work of the conference organizers, participants, and influencers in the OpenMRS community were recognized. Each participant was given a certificate of participation signed by Dr. Eddie Mukooyo and Dr. Paul Biondich, and those that played a critical role in planning OMRS16 were awarded a certificate of appreciation. At the conference conclusion, the participants were asked to answer a few questions, including what they expected to learn and what did they learn from the conference. Many people voiced the goal of maximizing their understanding and value for OpenMRS, identifying human resources that could help them with their work, and learning from others. Participants shared how they saw their work saving lives through the sharing of experiences, embodying our motto 'Write code. Save lives."
Delegates hoped to learn from the OpenMRS 'family' and build new relationships with implementers and developers using OpenMRS in unique ways. They expected to see first-hand how their work developing and writing code was actually being used to save lives, which couldn't have been more evident during the site visits. Lastly, conference attendees expected to collaborate in a more personal way to continue fulfilling the mission of reducing suffering and improving healthcare delivery.
The site visits showed the impact our EMR is having on local clinics and allowed time for developers to speak with the men and women that use OpenMRS on a daily basis in Uganda. These discussions sparked incredibly productive conversations about what to do next. Delegates said they learned more than they could have expected because they heard from various different partners and implementers of OpenMRS that aren't widely known online. The integration of OpenMRS and DHIS2 was a surprising development to some delegates, especially because there have been many integrations and a standardized approach has been developed. Lastly, participants were thankful to see friendly faces behind the OpenMRS IDs and to share smiles in person as if they were long lost family members.
Hackathon sessionThe closing ceremony of the conference came all too soon. At the same time, the ceremony marked the beginning of the 2- day hackathon. The hackathon allowed attending developers to work together on problems and ideas discussed during the week. The hackathon opened with a discussion around common challenges and difficulties faced when proposing, or starting a project. This lead to honest conversations about fears of failure or feeling intimidated by more experienced developers.
For the next meeting, attendees requested more effective communication of the schedule, a better way to record sessions (so that people who miss them can still participate) and a schedule for the first day planned ahead of time (with unconference sessions for the next few days of the meeting).
In addition, there was a concern about the cost of the conference, including the need to identify ways to either reduce the cost or offset the cost. Many organizations helped sponsor the event. This included travel grants and financial support for over 20 participants. We aim to provide for a larger number of travel grants for participants next year. The Leadership Team also recommended that there be a one-day administrative session, open to all, to review and plan for the annual work plan for the present and future of OpenMRS.
All of these suggestions have been documented and are serving to guide the preparations for the 2017 OpenMRS Implementers' Conference is currently being planned.
The OpenMRS Community and the Leadership Team look forward to next year's meeting. We are developing guidelines and recommendations for sites that may be interested in hosting the next meeting. We look forward to your ongoing involvement and participation in the community!
Photos from the 2016 Implementers' Conference can be found at om.rs/16photos