FDA Launches Open Source Tool to Help Capture Data from Patients
Press Release | Food and Drug Administration |
November 6, 2018
Today the U.S. Food and Drug Administration is announcing the MyStudies app, a new mobile technology to foster the collection of real world evidence via patients' mobile devices. Real world data can be collected from a variety of sources, such as electronic health records, claims and billing activities, and product and disease registries, as well as from patient-generated data including in home-use settings, or from data gathered from other sources, such as mobile devices.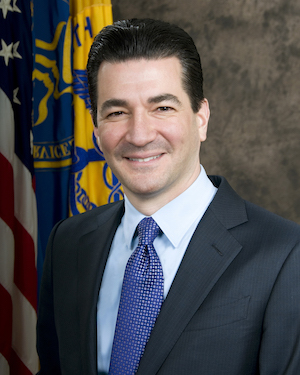 Scott Gottlieb, M.D. As part of the agency's work to foster greater opportunities around real world evidence, the FDA partnered with Kaiser Permanente on a pilot study to measure the functionality and engagement of the MyStudies app. Based on the successful outcome of the study, the FDA is now releasing the open source code and technical documents that will allow researchers and developers to customize and use the FDA's newly created MyStudies app to expand the diversity of health information available for clinical trials and studies, while directly capturing the perspective of patients. By providing the open source code, the agency is providing a tool that sponsors and developers can adapt to advance their specific clinical trial and real world evidence needs, while also remaining compliant with the FDA's regulations and guidance for data authenticity, integrity and confidentiality.
For example, patients may be able to securely enroll in and contribute data to traditional clinical trials, pragmatic trials, observational studies and registries. Sponsors may be able to customize their apps to administer questionnaires assessing patient-reported outcomes, symptom scales or patient reports of prescription and over-the-counter medication use.
"There are a lot of new ways that we can use real world evidence to help inform regulatory decisions around medical products as the collection of this data gets more widespread and reliable. Better capture of real world data, collected from a variety of sources, has the potential to make our new drug development process more efficient, improve safety and help lower the cost of product development. If done right, it can also help make sure doctors and patients are better informed about the clinical use of new products, enabling them to make more effective, efficient medical choices. This will ultimately help us achieve better outcomes, and safer and more efficient use of expensive technology," said FDA Commissioner Scott Gottlieb, M.D. "Today we're unveiling the new MyStudies app for the collection of real world data. This digital platform enables developers to adapt our technology to advance new ways to access and use data collected directly from patients-with the necessary controls in place to ensure patient privacy. Our hope is that the collection of more real world data directly from patients, using a secure app, will lead to more efficient product development and assist with safety monitoring."
The overall effort was led by David Martin, M.D., associate director for real world evidence in the Office of Medical Policy in the FDA's Center for Drug Evaluation and Research, with a grant from the U.S. Department of Health and Human Services' Patient Centered Outcomes Research Trust Fund. The open source code that serves as the foundation of the MyStudies app, as well as specifications for a secure patient data storage environment, were developed through a collaboration with Harvard Pilgrim Health Care Institute, LabKey and Boston Technology Corporation.
# # #
The FDA, an agency within the U.S. Department of Health and Human Services, protects the public health by assuring the safety, effectiveness, and security of human and veterinary drugs, vaccines and other biological products for human use, and medical devices. The agency also is responsible for the safety and security of our nation's food supply, cosmetics, dietary supplements, products that give off electronic radiation, and for regulating tobacco products.