ThoughtWorks Sells Out Third Annual XConf Manchester
Press Release | ThoughWorks, XConf |
July 25, 2016
Speakers from top digital organisations BBC, Financial Times and SoundCloud addressed thriving tech community

MANCHESTER, England, July 25, 2016 /PRNewswire/ -- ThoughtWorks, the leading global, digital transformation consultancy, sold out its third annual tech conference, XConf, in Manchester on Thursday 14th July - another sign that Manchester's tech community continues to thrive and grow. From building a LEGO set to demonstrate software development, to illustrating the history of blockchain as a spotlight on the future, the one-day conference addressed the hottest trends and topics in technology right now.
Nearly 150 passionate technologists came together in Manchester's Northern Quarter to hear from leaders in their field including: James Sheppard of BBC, Duana Stanley of SoundCloud and Sarah Wells of Financial Times, as well as ThoughtWorks' own Principal Consultant James Lewis, and recently published author of Infrastructure as Code, Kief Morris.
Wells said: "It's a really good opportunity for people in Manchester to have access to really high quality technical talks without having to travel to London or to Berlin."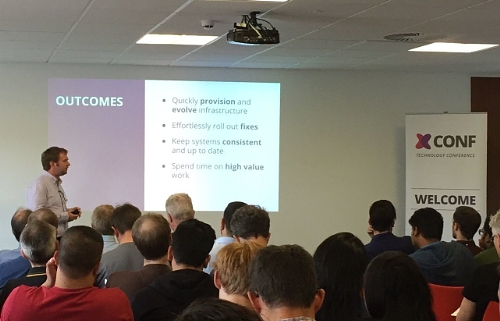 ThoughtWorks sells out third annual XConf Manchester
Delegates networked with peers and heard from industry experts who are using technology to transform their and their clients' organisations; including leading German retailer Otto and Autoscout 24, one of Europe's biggest internet car platforms.
Throughout the day, delegates also engaged on social media, sharing their thoughts on the various sessions and the conference as a whole. One delegate said: "Lots of thought provoking talks at #XConfMCR today. Need to set some time aside to do some learning!"
Speaker Duana Stanley shared her takeaways from the conference: "I got to learn about the micro bit that BBC put out for educating kids in the digital age, and Bitcoin; I've been meaning to learn about blockchain but never had a chance, and today I got to."
For additional information and updates, visit the XConf Manchester website, or to continue the conversation, follow ThoughtWorks on Twitter.
About ThoughtWorks:
We are a software company and community of passionate, purpose-led individuals. We think disruptively to deliver technology that addresses our clients' toughest challenges, all while seeking to revolutionize the IT industry and create positive social change. ThoughtWorks' 3,500+ professionals serve clients from offices in Australia, Brazil, Canada, China, Ecuador, Germany, India, Italy, Singapore, South Africa, Turkey, Uganda, the United Kingdom and the United States.
About XConf:
XConf is a one-day conference that showcases the latest thinking from ThoughtWorks and friends on a broad range of technology topics. XConf provides a platform for passionate technologists in Hamburg and Manchester who are looking for inspiration and a chance to network with their peers.