Blockchain
Jack Corrigan | Next Gov |
September 26, 2017
White House officials see standardizing federal data as a crucial step to making government more effective and efficient. Opening that data to the public could also spur economic growth, they said. "Open data is not just a transparency exercise," said acting Federal Chief Information Officer Margie Graves. "It really is integral to the management of government itself. Everybody recognizes that this is the platform on which we have to build our house"...
Luke Parker | Brave New Coin |
August 30, 2016

A challenge held by the US Department of Health and Human Services (HHS) to encourage Blockchain use in the Health Information Technology field resulted in 15 winning whitepapers. The Department's Office of the National Coordinator for Health Information Technology (ONC) first announced the "Use of Blockchain in Health IT and Health-Related Research" challenge in July...
Jennifer Bresnick | Health IT Analytics |
January 4, 2017
Blockchain may have entered the healthcare lexicon in 2016 as a somewhat fuzzy concept, but the innovative method of securing and validating data transactions is poised to take the industry by storm over the next twelve months, according to an international survey conducted by IBM. Sixteen percent of the 200 healthcare executives participating in the poll have concrete plans to implement a commercial blockchain solution within their organizations in 2017, while an additional 56 percent are likely to follow by the end of the decade...
Lucas Mearian | Computer World |
May 23, 2017
While blockchain may have cut its teeth on the cryptocurrency Bitcoin, the distributed electronic ledger technology is quickly making inroads across a variety of industries. That's mainly because of its innate security and its potential for improving systems operations all while reducing costs and creating new revenue streams. This year, blockchain technology is expected to become a key business focus for many industries, according to a Deloitte survey conducted late last year...
Cyrus Maaghul | LinkedIn |
June 18, 2016
The US healthcare credentialing and recruiting industry is unnecessary. Currently over $16 billion dollars a year flows to intermediaries and the industry is projected to grow at 6% per annum given changing demographics and emerging healthcare policies. These intermediaries or opportunistic carpetbaggers are largely exploiting inefficiencies. If applied properly, the blockchain could potentially displace the need for credentialing and recruiting firms...
Press Release | Partners in Digital Health |
March 27, 2018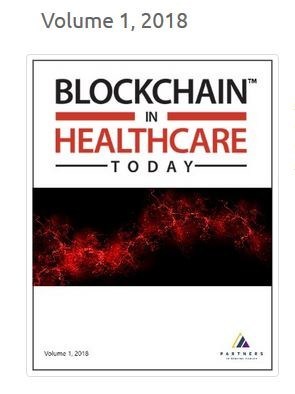 The online peer review journal, Blockchain in Healthcare Today (BHTY), has published its first articles to augment the industry's knowledge-base. The announcement of the journal came last June, when the Founder of Partners in Digital Health, Tory Cenaj, announced the launch of a journal focusing exclusively on blockchain technology for the healthcare marketplace...Blockchain in Healthcare Today is an open-access publication that publishes methodologies, pilots, and scalable and sustainable blockchain deployments, exclusively, in the healthcare ecosystem. The Journal offers rapid, peer-review publication of research, commentary, and proof of concept for blockchain technology and related areas. No subscription fees are paid to view content or to subscribe/register with the journal.
Daniel Palmer | CoinDesk |
March 3, 2016

Data security startup Guardtime has announced a partnership with the Estonian eHealth Foundation that will see it deploy a blockchain-based system to secure over 1 million patient healthcare records. Under the deal, the foundation will integrate Guardtime's keyless signature infrastructure (KSI) blockchain into the foundation's Oracle database engine to provide "real-time visibility" into the state of patient records...
Mike Miliard | Healthcare IT News |
February 22, 2017
At HIMSS17 on Wednesday, IEEE Computer Society and the Personal Connected Health Alliance hosted a day-long event focused on the potentially transformative promise of an intriguing innovation: Blockchain. Kicking off the symposium, "Blockchain in Healthcare: A Rock Stars of Technology Event," Tamara StClaire, previous chief innovation officer at Conduent Health (formerly known as Xerox Healthcare), made the case that the bitcoin-derived secure digital ledger technology could just maybe offer the answer to an array of vexing healthcare challenges – not least of which is interoperability...
Jennifer Bresnick | Health IT Analytics |
October 27, 2016
Capital One is hoping to bring the blockchain and API tools to the healthcare industry by proving their value in the revenue cycle management arena. A pair of new partnerships between the financial services company and healthcare-focused startups aim to "reconceptualize" the claims management and patient payment processes, using blockchain and API technologies to reduce the time between service and collection...
Will Knight | MIT Technology Review |
April 18, 2017
Technologists, entrepreneurs, and some big companies are busy dreaming up new ways of using the core of Bitcoin—a distributed cryptographic ledger, or blockchain—to reinvent everything from business contracts and health records to carbon credits and new trading platforms (see "Why Bitcoin Could Be Much More Than a Currency"). However, one expert warns that they may be building their dreams on top of a precarious foundation. Emin Gün Sirer, an associate professor at Cornell University, has been researching ways in which Bitcoin and blockchains can fail...
Jeff John Roberts | Fortune |
June 28, 2016
You can mark 2016 as the year "blockchain" became a buzzword. It's not as hollow as "cloud," which marketers have rendered almost meaningless. But "blockchain" is now at the point where everyone and their dogs want a piece of it. One of the loudest evangelists is IBM, which has been touting the potential of blockchain—a technology that can allow companies to create quick, tamper-proof ledgers—to transform everything from finance to trading to insurance...
Jack McCarthy | Healthcare IT News |
October 25, 2016
Credit card and retail banking company Capital One revealed a handful of partnerships with several digital technology providers for its Treasury Management services — including a blockchain-based claims management solution for healthcare clients and another that uses new analytics processes to estimate healthcare patient costs. "We're seeing unprecedented transformation in the payments space as rapid advances in digital technology are reimagining the client experience," Capital One executive vice president Patrick Moore said in a statement...
Giulio Prisco | Bitcoin Magazine |
October 25, 2016
On October 21, 2016, Visa announced a new partnership with blockchain enterprise company Chain that will develop "a simple, fast and secure way to process B2B payments globally." Dubbed Visa B2B Connect, the system will offer participating pilot financial institutions a consistent process for managing settlement through Visa's standard practices...
Press Release | Change Healthcare |
September 25, 2017

Change Healthcare today announced the launch of the first blockchain solution for enterprise-scale use in healthcare, enabling payers and providers to boost revenue cycle efficiency, improve real-time analytics, cut costs, and create innovative new services. As one of the largest independent healthcare IT companies in the United States, Change Healthcare services customers across the continuum of care, using its Intelligent Healthcare Network™ to process 12 billion healthcare-related transactions covering over $2.0 trillion in claims annually...