The Fight for the "Right to Repair"
Emily Matchar | Smithsonian.com |
July 13, 2016
Manufacturers have made it increasingly difficult for individuals or independent repair people to fix electronics.
A growing movement is fighting back. Fifty years ago, if your television broke you could bring it to the local electronics shop to be repaired. These days, a broken TV likely means a trip to Best Buy for a new one. Electronics have become harder to fix. This is, in part, because they've become more complex. But some of the problem is by design. Manufacturers have increasingly restricted repair information to authorized repair centers, leaving consumers and independent repair people unable to deal with even simple problems. It's just easier (and sometimes cheaper) to buy something new.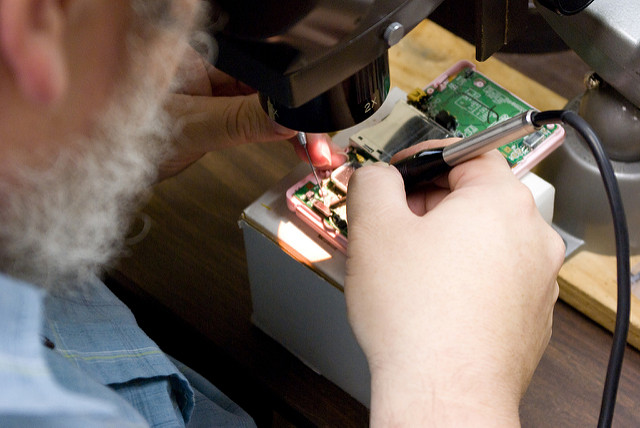 Credit - Shal Farley, Flickr (CC-BY-2.0)
A growing number of people, seeing this as an unreasonable state of affairs, are fighting back. In a so-called "right to repair" movement, this loose coalition of consumer advocates, repair professionals and ordinary individuals are working to create legislation that would make it harder for companies to keep repair information proprietary.
The idea of planned obsolescence is nothing new. But the use of "repair prevention" as a method of making products obsolete is growing, say right to repair proponents. Many companies that manufacture electronics—anything from laptops to refrigerators to your car's onboard computer—now have restrictions that prevent consumers from having them fixed anywhere besides a licensed repair shop. Some companies use digital locks or copyrighted software to prevent consumers or independent repair people from making changes. Others simply refuse to share their repair manuals. Some add fine print clauses to their user agreements so customers (often unwittingly) promise not to fix their own products...