3D Printing Educator Spotlight On: Joshua Pearce, PhD, Associate Professor, Michigan Tech
Sarah Anderson Goehrke | 3D Print |
July 27, 2017
As the global population continues to expand massively, with an estimated 7.5 billion people alive today, sustainability is becoming an ever-more-pressing concern. It takes a lot of energy to support a large and growing population, especially with the living standards seen in the 21st century. In the US, where capitalism looms large, affordability poses another issue as many goods and services carry with them a hefty price tag. At the convergence of a few major areas looking toward the future of sustainability is Dr. Joshua M. Pearce, who has engaged in extensive work with 3D printing, solar power, and open source research as he has headed thorough studies examining these areas and working to educate students and industry alike. Dr. Pearce, Associate Professor, Materials Science & Engineering and Electrical & Computer Engineering, works at Michigan Technological University (Michigan Tech) and is a strong figure standing at the crossroads of 3D printing and education.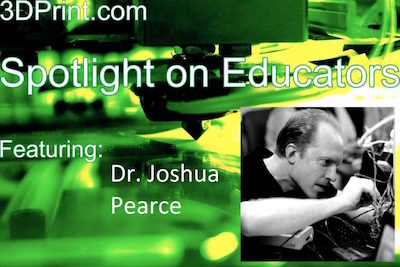 Image credit - 3DPrint.com
Most recently, Dr. Pearce shared with us his thoughts on a study with 3D design repository MyMiniFactory to discover how 3D printing is set to disrupt the toys and games industry, with findings indicating a potential $60 million impact and room for significant growth. He has also recently examined the impact of at-home 3D printing on sales of consumer goods, and looked closely at 3D printing materials properties, including significant work with recycled materials. Dr. Pearce's classes have built their own RepRap 3D printers, while his research team has also been making great headway in working on solar-powered 3D printers; the open source movement plays strongly into the work he does, and he has argued against too much IP protection in 3D printing while developing open source 3D printing software and quantifying the value of open source hardware. The professor is undoubtedly busy as his prolific projects show (as does his Wikipedia entry); we appreciate his taking the time to talk to us as we continue to focus on the importance of those working to advance the place of education in the 3D printing world.
Please tell us about your background and how you came to teach at Michigan Tech.
"My first academic job had me developing the first Sustainability program in the Pennsylvania State System of Higher Education and then after I met my beautiful Canadian wife and we moved to Canada, I helped develop their Applied Sustainability graduate engineering program at Queens University. Then we started trying to solve the '2 body problem' with good jobs for both of us and did a North America wide search for a university town with a hospital. Michigan Tech was hiring a cluster of renewable energy profs and the local hospital was advertising for an orthopedic surgeon – so we ended up here, which is about as close to Canada as you can get being in the middle of Lake Superior. Now I am a Professor cross-appointed in the Department of Materials Science & Engineering and in the Department of Electrical & Computer Engineering where I run the Open Sustainability Technology Research Group"...