OpenBionics Makes Low-Cost Open Source Robotic Hands Available to Amputees Around the World
By Don Watkins | March 21, 2016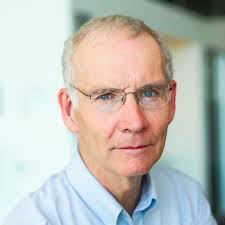 Don WatkinsDoing good for the world is often the nature of an open source software or hardware project. Offering code and schematics to others free of charge and with a license that allows for reuse and modification is often done to help others. Knowing this, I was still surprised to learn about an incredible project that combines robotics and prosthetics.
This Instagram video of a robotic hand stopped me in my tracks. Further investigation revealed that the hand is the creation of OpenBionics.
According to the OpenBionics website, there are approximately two million hand amputees worldwide. Many of these amputees have no prosthetic device, some have hooks, and fewer still have robotic hands that can help them do more.
OpenBionics' 25-year-old CEO Joel Gibbard wants to make low-cost robotic hands for everyone. In a talk he gave at TEDx Exeter, he said that a typical prosthetic hand costs about $17,000 before additional fitting costs. According to a recent article in Wired.uk, advanced prosthetics can cost a patient anywhere from $4,400 to nearly $90,000 depending on insurance coverage.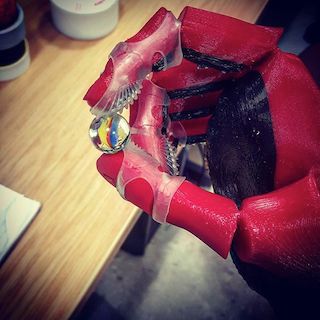 Trying out new grips that might be used on the next hand. Source - OpenBionicsGibbard's greatest inspiration has been to replicate nature. That's why, in 2013, he launched a crowdfunding campaign for what he called the Open Hand Project, an effort to produce 3D printed robotic hands that can be reliably controlled via EMG sensors.
"The best thing to come out of that campaign was the community and support of amputees globally, many of which I am still in regular contact with and have helped me with testing over the years," Gibbard said.
It was clear to Gibbard that there was a need for these devices that wasn't being met, and choosing to release his creation with an open source license enabled do-it-yourselfers, makers, and others to take his design and create their own prosthetics. The convergence of his goals with advent of 3D printing has been a boon.
He created OpenBionics in April 2014 to commercialize the research undertaken by the Open Hand Project.
"I wanted to see these affordable robotic hands reach people all over the world, so I needed to create a sustainable way to achieve that goal. I saw setting up a social enterprise as that solution," Gibbard said.
The Ada hand is OpenBionics' first design release and is completely separate from the Open Hand Project. Like its predecessor, Dextrus, all of its design files are freely available under an open source license.
"We're inviting developers to join us now and contribute to our R&D," Gibbard said. "We opened a forum to make it easier for other robotic hand developers to share their findings and collaborate."
Thanks to an agreement with Disney, OpenBionics holds royalty-free licenses that allow it to produce official Disney and superhero-themed bionic hands for kids.
OpenBionics recently started selling maker kits and components on our website to help people build their open source hands. The design files for the Ada hand are hosted on OpenBionics.com and our "featured" Instructables has diagrams and detailed guides.
Thank you to Joel Gibbard for giving humanity a hand.