cloud based architecture
A certain doctor's practice had been using EHR software for many years; they had been paying a pretty penny too. For their own reasons they wanted to change their software. They were going to brave the uncertain and scary world of transitioning their current EHR to another one. A round of applause for that decision alone, for many practices tolerate their EHR system only because they have paid a lot of money for it and have spent a lot of time training on it. They just don't want to go through the pain all over again. This works out in favor of most EHR system vendors, doesn't it? Make the process so painful and costly that the physicians would not want to go through it again, thereby locking the caregivers into an eternal commitment.
Press Release | ZH Healthcare |
July 31, 2015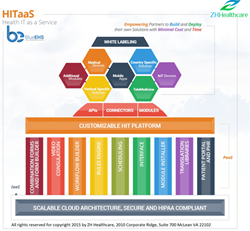 ZH Healthcare is announcing a new cloud based service which delivers Health IT as a configurable solution. HITaaS manages all aspects of infrastructure, security, runtime, middleware, OS, virtualization, Servers, storage, contracts, and interfaces. Among its components are fully built software modules that can be customized without coding. Key advantages of HITaaS are...