MyMedicare.gov
Press Release | Humetrix |
January 3, 2019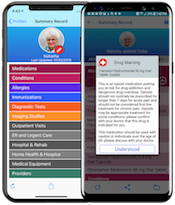 At CES, Humetrix will unveil at booth 43943 of the Tech West/Sands Expo Health & Wellness Marketplace, its iBlueButton 8.0 mobile health platform approved by the Centers for Medicare and Medicaid Services (CMS) for use by 53 million Americans covered by Medicare. A consumer life and cost saving digital health tool, iBlueButton 8.0 was introduced at the White House Blue Button Conference in August 2018 to illustrate how CMS approved applications powered by the Medicare Blue Button claim database can help millions of Americans in the Medicare program better manage their often complex and at times error-prone healthcare.
Mary Mosquera | Government Health IT |
December 11, 2012
Most everyone in health IT circles has heard about the Blue Button feature to download personal health information. But as Dr. Farzad Mostashari, the national health IT coordinator, found out, you've got to see it to appreciate it. Read More »
Press Release | Rush University Medical Center |
August 17, 2018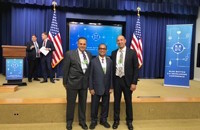 Information technology has changed the world, and now it's changing health care in dramatic and fast-moving ways. Rush is a nationally-recognized leader in using IT to achieve better outcomes, lower costs and improve the patient experience. This leadership reached the White House on Monday, when...Rab and Boutrs presented MyRush Mobile, an app for mobile phones developed by Rush's information systems department, to representatives of the Centers for Medicare and Medicaid Services, including CMS director Seema Verma. The presentation was part of the Blue Button 2.0 Conference, a gathering of software developers held in the White House South Court Auditorium.