Humetrix to Unveil its Medicare Approved iBlueButton 8.0 Mobile Platform at CES in Vegas
Press Release | Humetrix |
January 3, 2019
CES Health & Wellness Marketplace Booth 43943, Tech West/Sands Expo
Las Vegas, January 3, 2019- At CES, Humetrix will unveil at booth 43943 of the Tech West/Sands Expo Health & Wellness Marketplace, its iBlueButton 8.0 mobile health platform approved by the Centers for Medicare and Medicaid Services (CMS) for use by 53 million Americans covered by Medicare.
A consumer life and cost saving digital health tool, iBlueButton 8.0 was introduced at the White House Blue Button Conference in August 2018 to illustrate how CMS approved applications powered by the Medicare Blue Button claim database can help millions of Americans in the Medicare program better manage their often complex and at times error-prone healthcare. iBlueButton is the first native mobile platform approved by Medicare for its new Blue Button 2.0 program, which now counts 16 approved applications soon to be published by CMS on the Medicare website. In anticipation of this important upcoming publication on MyMedicare.gov, Humetrix will publicly release iBlueButton 8.0 at CES on both the Apple and Google Play stores. With its unique "privacy by design" architecture, iBlueButton doesn't store any of its user data in the cloud, but only on the user's mobile device locally generating in real time personalized notifications and safety warnings, under the user's total control.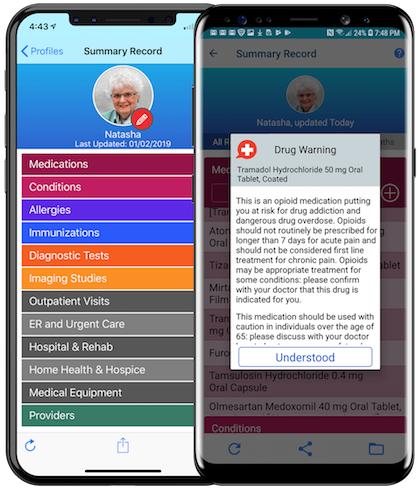 Every year, between 200,000 and 400,000 Americans die from preventable medical errors and many of these are due to a lack of information at the point of care, leading to diagnostic or therapeutic errors, adverse drug reactions, costly redundant tests and procedures, and preventable hospitalizations. Most of these preventable and life-threatening medical errors affect older Americans1 who are more likely to be on multiple medications and who suffer from multiple chronic conditions, which are too often unknown or partially known, given that on average a Medicare beneficiary sees seven different physicians in a year, most of whom don't have access to their patients' outside medical records. This is when a four-year, single payer claim history coming from Medicare and turned - with iBlueButtton 8.0 - into a mobile health record with their up-to-date medical history can become a life-saving tool for information sharing at the point of care, for and by a digitally empowered patient.
The Humetrix physicians and technologists designed iBlueButton with absolutely one goal in mind: giving healthcare consumers, starting with those at higher risk for medical errors and suboptimum healthcare, such as older Americans in Medicare and Veterans, the information they need to know to avoid preventable medical errors and to receive high quality medical care for specific medical conditions.
This is what iBlueButton 8.0 is all about: automatically generating alerts and safety notifications based on the user's medical history and immediately upon changes in the user's medical information, such as alerting a user of the potentially addicting opioid drug they have just been prescribed, or of a dangerous drug-drug interaction their prescribing physicians don't know about, or letting them know about the standard for care for common chronic conditions. As recently published in Consumer Reports2, one out of three Medicare patients are prescribed opioid medications, who usually do not know that these can be even more deadly when combined with other cognitively impairing drugs such as sleeping pills, which are too often dangerously prescribed to older Americans; and many preventable hospitalizations and medical errors are due to adverse drug events. The best way to prevent unnecessary harm is to inform patients themselves, for them to discuss with their physicians.
iBlueButton is now available to over 50 million Americans in Medicare, as well as 20 million Veterans and military personnel and their family with iBlueButton also accessing the VA and TRICARE Blue Button data.
At CES, Dr. Experton will be also speaking on the CES Innovation Policy panel, "Tech Revolutionizing Medicine - If We Let It," where she will discuss the newly introduced bipartisan legislation The Mobile Health Record Act - H.R. 7272 to support the nationwide deployment of CMS approved Blue Button applications. This panel is on Thursday, January 10th, at 10:15 am, Las Vegas Convention Center, North Hall. N258.
About Humetrix
Humetrix has pioneered the development of innovative consumer-centered mobile health platforms over the past 15 years, which have been deployed around the world. In the US, Humetrix is located in Del Mar, California, with a subsidiary in the UK headquartered in London.
Connect with Humetrix:
Twitter: @Humetrix, #Humetrix
Media Contact
Adrien Cirou - Tel: +1.858.449.1056 - Mail: [email protected]