Rush Medical Center Demoes Patient-Centered Blue Button 2.0 Mobile App at White House Event
Press Release | Rush University Medical Center |
August 17, 2018
Presentation at Blue Button 2.0 Conference part of work to put information in patients' hands
Newswise —Aug. 17, 2018 —Information technology has changed the world, and now it's changing health care in dramatic and fast-moving ways. Rush is a nationally-recognized leader in using IT to achieve better outcomes, lower costs and improve the patient experience.

This leadership reached the White House on Monday, when Dr. Shafiq Rab chief information officer; Dr. Omar Lateef, chief medical officer for the Medical center and the Rush System; and Modi Boutrs, chief application architect, Information Systems, traveled to Washington. There, Rab and Boutrs presented MyRush Mobile, an app for mobile phones developed by Rush's information systems department, to representatives of the Centers for Medicare and Medicaid Services, including CMS director Seema Verma.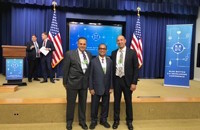 Drs. Boutrs, Rab, and Lateef White House Blue Button 2.0 Developer ConferenceThe presentation was part of the Blue Button 2.0 Conference, a gathering of software developers held in the White House South Court Auditorium. CMS organized the conference to "bring together developers to learn and share insights on how we can leverage claims data to serve the Medicare population," according to the Blue Button 2.0 website.

"Medicare is leading by example by opening its data for use by its beneficiaries on a mobile device," Rab said.
Blue Button 2.0 is a software interface Medicare created to connect patients, providers and payors with Medicare data. This data reveals a variety of information about a beneficiary's health, including type of Medicare coverage, drug prescriptions, primary care treatment and cost. The beneficiaries have full control over how their data can be used and by whom, with identity and authorization controlled by MyMedicare.gov.

'Power in the hands of the patient'

CMS is seeking apps that will allow the more than 110 million people insured by Medicare and Medicaid to download their health records to their phones and share the records with providers and payors. Rab was one of three technology innovators presenting apps they'd designed for CMS' consideration.

My Rush Mobile already is available for Android and Apple phones. It provides patients with access to their electronic medical record at Rush, lets them communicate with their doctors and schedule appointments, and much more.
In their presentation, Rab and Boutrs demonstrated how they could expand the app's capabilities to allow patients to use My Rush Mobile to gain access to their Medicare claims records on their phone wherever they are, and eventually to be able to share the information with Rush and other care providers.

"Blue Button allows power in the hands of the patient and instantly they can share their records with the treating team, whenever, and wherever," said Rab.

Rubbing Shoulders With Tech Elites

The Rush contingent at Blue Button 2.0 was in elite company. The approximately 150 people who registered for the conference included representatives from tech heavyweights Amazon, Google, IBM, Microsoft, Oracle and Salesforce.
CMS director Seema Verma addressed the gathering, urging developers to leverage tech to make private insurance records and other information available to patients on their mobile devices. "Seema has made this personal," Rab told the trade journal HealthCare IT News. "And when things get personal they go far."

The conference also received coverage in Politico and Health Data Management.

A High-Tech Digital Approach to Health Care

My Rush Mobile is just one of several IT innovations Rush recently has adopted to enhance care. "We are just getting started in harnessing big data and new technology at Rush," Rab said.

Rush was the first or among the first hospitals in the country to implement these technologies, which include the following innovations:
Incorporating social determinants of health — such as food, housing and transportation — in the electronic health record, and integration of the record with NowPow, an online directory that allows physicians, nurses and social workers to refer patients to the non-medical resources they need
Utilizing the camera in iPhones camera as a barcode reader for mobile nursing
Integration of the Apple Health app and wearables data with patient's electronic medical record using FHIR (Fast Health Care Interoperability Resources), a mechanism that allows users to obtain data in a discrete format.
Enabling users of higi health stations to add their higi health screening data directly to their electronic health record
"Between the work Dr. Rab and his group has done with Apple Health, NowPow, higi, and now Blue Button, Rush is leading the nation on efforts to harness technology to improve health care by bringing together important date and technology, and involving patients in new ways to share their medical information when and where this is necessary and important," Lateef said. "These innovations and others that are coming also help save documentation time and relieve the burden our physicians, nurses and other care givers who use electronic health records.

"These innovations also support Rush's aggressive strategic plan and transformative aspirations."