National Institute Of Dental & Craniofacial Research
Press Release | Kitware |
March 21, 2017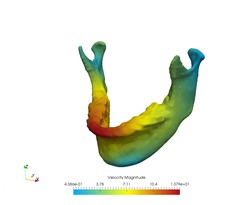 Kitware detailed plans to share preliminary results of ongoing research at the 95th General Session & Exhibition of the International Association for Dental Research (IADR). Kitware Technical Leader Beatriz Paniagua, Ph.D., will present the results in "Continuous 4D Shape Analysis of Mandibular Changes" at an oral session on temporomandibular joint disorders (TMD). The session, TMD Imaging Advances in Craniofacial Biology and Orthodontics, will take place Friday, March 24, 2017, in Moscone West in San Francisco, California...
Press Release | Kitware |
December 6, 2018
Kitware added to its collection of open source toolkits with the first release of the interactive Medical Simulation Toolkit (iMSTK). The toolkit offers manufacturers and researchers all the software components they need to build and test virtual simulators for medical training and planning. "iMSTK, which we've been developing in close collaboration with Professor Suvranu De's research center - the Center for Modeling, Simulation and Imaging in Medicine at Rensselaer Polytechnic Institute - is meant to empower developers to rapidly prototype virtual simulator applications," said Andinet Enquobahrie, the director of medical computing at Kitware.