Kitware Prepares to Share Results of Dental Shape Analysis Research
Press Release | Kitware |
March 21, 2017
Research demonstrates how new technology can aid in characterizing mandibular disorders.
Clifton Park, NY (PRWEB) March 21, 2017 -- Kitware detailed plans to share preliminary results of ongoing research at the 95th General Session & Exhibition of the International Association for Dental Research (IADR). Kitware Technical Leader Beatriz Paniagua, Ph.D., will present the results in "Continuous 4D Shape Analysis of Mandibular Changes" at an oral session on temporomandibular joint disorders (TMD). The session, TMD Imaging Advances in Craniofacial Biology and Orthodontics, will take place Friday, March 24, 2017, in Moscone West in San Francisco, California.
The research that Paniagua will present aims to help dental scientists characterize the type of structural changes that result in the mandible from orthognathic surgery. This research showcases an example application of shape regression that Kitware and team members plan to incorporate into an open-source software framework in a multi-year initiative. The initiative began in December 2016, when the National Institutes of Health awarded the team with a Research Project (R01) grant. Since this time, team members have worked to integrate existing shape analysis research code into the framework, which they named Slicer Shape AnaLysis Toolbox (SlicerSALT). Once completed, SlicerSALT will become available as a customized version of 3D Slicer.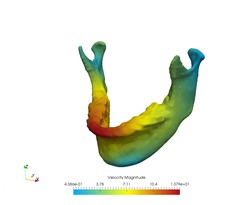 A computed growth model shows mandibular arch changes and condylar torque. Cross-sectional analysis detected mandibular advancement and condylar flattening, which the model also displays."SlicerSALT will allow researchers who may not have expertise in shape analysis to evaluate the geometrical properties of different three-dimensional anatomical structures," Paniagua said. "Our team's results demonstrate the usability of SlicerSALT to characterize postsurgical conditions such as temporomandibular joint resorption."
Paniagua will present during the 2:30 to 2:45 p.m. PST time slot. She will also participate in the Using CBCT for Measuring Temporo-Mandibular Joint Changes and Tooth Movement workshop, which will occur Saturday, March 25, 2017, from 2 to 3:30 p.m. PST.
Throughout the general session and exhibition, Paniagua will join Kitware Assistant Director of Medical Computing Andinet Enqhobahrie, Ph.D., MBA, to discuss additional technologies that Kitware develops that can aid researchers as they perform dental and craniofacial image analysis. These technologies include the Insight Segmentation and Registration Toolkit. Paniagua and Enquobahrie will also go over career and collaboration opportunities.
"We look forward to meeting attendees and learning how we can work together on future efforts that make it easier to conduct meaningful research," Enquobahrie said.
To learn more about medical computing expertise at Kitware, please visit the company website. To set up a time to meet with Paniagua and Enquobahrie at the IADR event, please contact kitware(at)kitware(dot)com.
Research reported in this publication was supported by the National Institute Of Biomedical Imaging And Bioengineering of the National Institutes of Health under Award Number R01EB021391 and by the National Institute Of Dental & Craniofacial Research of the National Institutes of Health under Award Number R43DE024334. The content is solely the responsibility of the authors and does not necessarily represent the official views of the National Institutes of Health.
About Kitware
Kitware is an advanced technology, research and open-source solutions provider for research facilities, government institutions and corporations worldwide. Founded in 1998, Kitware specializes in research and development in the areas of HPC and visualization, medical imaging, computer vision, data and analytics and quality software process. Among its services, Kitware offers consulting and support for high-quality software solutions. Kitware is headquartered in Clifton Park, NY, with offices in Carrboro, NC; Santa Fe, NM; and Lyon, France. More information can be found on http://www.kitware.com.