Seth Kenlon
By Seth Kenlon | July 5, 2016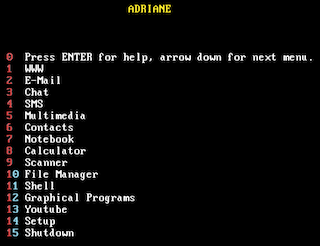 ADRIANE is a great interface with a solid plan for design and functionality. In a way, it reduces a computer down to a minimalist device tuned for the most common everyday tasks, so it might not be the ideal interface for power users (possibly an Emacspeak solution would be better for such users), but the important thing is that it makes the computer easy to use, and tends to keep the user informed every step of the way. It's easy to try, and easy to demo, and Knoppix itself is a useful disc to have around, so if you have any interest in low-vision computer usage or in Linux in general, try Knoppix and ADRIANE...
By Seth Kenlon | August 22, 2016
The word alternative is one of those shifty terms, with a definition that changes depending on perspective. For instance, something that is alternative to one person is the norm for another. Generally, the term alternative is considered to be defined by the fact that it is not considered to be in the majority or the mainstream. Then again, sometimes the term "alternative" gets attached to the second instance of something. If a web server, such as Apache, exists, then any time a different web server gets mentioned, it gets the alternative badge, because we all assume that we all silently concede that whatever it is, it's an alternative to that big one that we all know about...
By Seth Kenlon | November 9, 2016
Do you remember Monopoly and Life and Clue, and all those old classic board games you played as a kid because sometimes you were just that bored? Do you recall ever reading the instructions? Probably not, because nobody reads the instructions for those games. We all had a friend who kinda knew how to play the game, so they taught us how to play, and that was good enough. (Seriously, go back and re-read the instructions for Monopoly; I'll bet you Internet money that you've never played the actual game.) If you ever did try to read the instructions, you found that they'd been written back in 1962, and read almost identically to the repair manual to the General Electric Refrigerator. They were just as detailed, just as complete, and just as interesting...