iBlueButton Lets Veterans Bridge Health Information Gaps Between VA, DoD and Other Medical Providers Wherever They Get Care
Press Release | Humetrix |
May 29, 2014
Humetrix Set to Demo iBlueButton 5.0 App at Health Datapalooza on June 2
Del Mar, CA, May 29, 2014 - Humetrix will participate in next week's Health Datapalooza in Washington, DC, demonstrating its iBlueButton mobile app which already makes it easy for Veterans to take their records with them and receive the care they need at a private hospital, clinic or VA facility.
As part of the Live App Demo on Monday, June 2 at 3:00 pm Humetrix will showcase its iBlueButton app with a young Veteran in the emergency room providing his ER doctor with a complete list of medications that were downloaded to his smartphone from his VA and TRICARE records. Suffering from a dangerous interaction between several medications prescribed by different providers, iBlueBlutton provides the ER doctor with the critical information needed for a prompt diagnosis, treatment and positive outcome. Also on June 2 at 1:00 pm, Humetrix will demonstrate iBlueButton in the App Demo Program - a dedicated area in exhibit hall A at the Marriott Wardman Park Hotel.
"I am an active user of iBlueButton which assembles all my records from the VA and Medicare so I bring them with me when I receive care inside and outside the VA," said Randy Watson, Army veteran who served in Korea and Vietnam. "I can also scan records to my computer and upload them to iBlueButton. With iBlueButton I can access a list of all my meds, diagnoses, tests and procedures and easily share them with both my VA and non-VA doctors so I can receive the best and quickest care."
"With the Obama Administration's decision to allow Veterans to receive medical care from private hospitals, having the ability to bring and share their medical history on their mobile device is invaluable for patient safety and the delivery of prompt and cost effective healthcare," said Dr. Bettina Experton, CEO of Humetrix. "With iBlueButton, the technology exists today that allows Veterans to take greater control of their healthcare, from the moment they are discharged from the military to insure a safe transition of care between DoD and VA and beyond."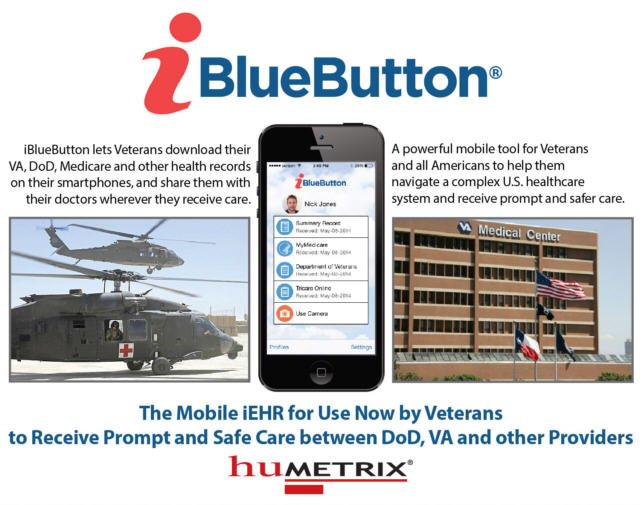 About iBlueButton
iBlueButton pulls or automatically receives healthcare records from the VA, TRICARE, Medicare or other MU-2 certified EMRs directly on a user's smartphone or tablet. iBlueButton records are totally secure because they come directly to your device and are not stored on a server where they can be hacked or mined. It uses Blue Button+/ MU standards to parse and receive records via the Direct secure data transport protocol and make them available at any point of care. iBlueButton is available for download from iTunes and Google Play.
About Humetrix
Humetrix has pioneered the development of innovative consumer-centered IT solutions over the past 15 years, which have been deployed around the world. The company's award winning iBlueButton and ICEBlueButton apps are the mobile embodiment of the Federal Blue Button initiative launched in 2010 by the Veterans Administration, the Center for Medicare and Medicaid Services and the U.S. Department of Defense, now embraced by over 500 organizations and available to more than 150 million Americans.
Press contacts:
Liora Bram, Media Strategies
617-202-9854
[email protected]
Cheryl Delgreco, Media Strategies
617-723-4004
[email protected]