How Does an Entrepreneur Help His Fiancé Fight Cancer? With Open Source Tools, of Course.
By Jorge Cortell | April 26, 2016
My name is Jorge. I started Kanteron Systems, a medical imaging open-source software company, in Valencia (Spain) in 2005. In 2011 I moved to New York to open our US subsidiary. While living in New York, I started dating a woman that was battling breast cancer. Her name is Stephanie.
Stephanie's oncologist was at Beth Israel Cancer Center, her surgeon at Mount Sinai St. Luke's Hospital, and her radiation therapist at Memorial Sloan-Kettering Cancer Center (MSKCC).
As I held her hand through the process twice (she had surgery, and a recurrence a year later) and met with her doctors, I saw first-hand how broken many cancer-care processes involving data and medical imaging sharing were.
For example:
Tumor samples transported from Mount Sinai to MSKCC by courier, taking weeks and many forms
The oncologist not having access to the tissue samples or images
Test being repeated because they could not be found
Reports faxed several times (yes, faxed!) because they could not be read
Measurements done with a ruler on a printed image and written down in pencil on a post-it
Genetic tests only for tumors, not patients, and only for 3 genetic traits (estrogen receptors, progesterone receptors, and HER2)
No unequivocal or automatic recurrence checking or incidental findings
No mechanism in place to check for adverse medication prevention or genomic screening for optimized medication result
A major anomaly in a medical image missed by several radiologist, only detected when we physically took a CD with the images to another physician for review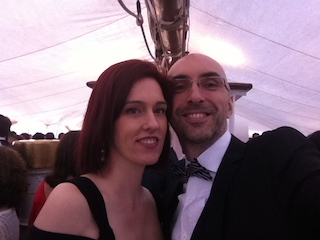 Her case was complicated by an unusual reaction to an ineffective medication. According to research, up to 75% of some cancer cases fit that pattern. The most likely cause: a genomic variant interfering with the prescribed medication. With existing systems it would take months, and a lot of money, to test that hypothesis.
Something had to be done about it, and I was not going to sit and wait for somebody else to do it.
I wanted to put together the "missing pieces" to solve the puzzle to help her, and millions of other patients like her. So I had to design a new technological platform working with my tireless developers to add many "new components" to our existing radiology imaging solution (known as PACS-RIS), like:
Reporting and a full suite of workflow elements (from scheduling to dashboards)
How did we tackle such a monumental task?
First, I went back to school. My 6 years of medical imaging experience, business, and computer degrees were not enough. Since I am not an MD, I was only admitted into a postgraduate clinical genomics program due to my determination. Seeing the love of your life fade before your eyes is indeed one strong motivation. I ended up not only graduating with top grades but also learning enough to understand how complex what I wanted to achieve was! I even persuaded my genomics professor to join my company as an advisor.
Being an open-source company meant we did not have to re-invent the wheel for everything. Fellow domain expert alumni at MIT, Oxford, and Harvard helped fill in the knowledge gaps. But even so, we had to develop a lot of new code and algorithms make of all the "components" mentioned above work.
Two years and a million lines of code later, we finished the software and called Translational Medical InformationServer (TMIS) — the first and only integrated personalized medicine system in the world.
I nearly bankrupted the company, putting all its resources into R&D to develop TMIS. It was not a decision that made sense from a corporate point of view. This was personal, and I own the company, so I took the risk. We had to take a million dollars as angel investment (for which I am extremely grateful).
We introduced this technological breakthrough at the largest healthcare IT tradeshow in the world: HIMSS. We were hoping to spread the word and help as many clinicians and patients as possible. It was a hit. Analyst firms Gartner and Frost & Sullivan covered it. We received several international awards like IBM's "Beacon Award for Healthcare and LifeSciences", and the Digital Pathology Association Award. All kinds of companies wanted to talk to us about the new technology.
Yet most executives at healthcare technology multinationals are conservative and afraid of "open source". They did not understand it and were afraid to do business with an "open source company". But as I was determined to stick with my values and belief in open source, so we had to venture into the market practically by ourselves.
Two more years later, it's a whole different story. We have customers in 4 continents, hundreds of millions of dollars in the pipeline, and an agreement with NHS England, one of the largest healthcare systems in the world. Companies like IBM, Microsoft, and Hitachi have partnered with us. Several others are in partnering or OEM discussions.
A few industry multinationals have shown interest in investing in Kanteron Systems. In the meantime, we are raising a series A investment to be able to meet the pipeline demand.
Analyst firm Early Metrics recently rated Kanteron in the top 15% of software companies. Business Insider UK published a report by "Silicon Valley comes to the UK" listing Kanteron among the companies that "could soon be unicorns".
So before this company grows beyond recognition (or fails, because you never know), I wanted to make sure the real reason why I did this is known: the real reason was LOVE. Love for a wonderful woman, and also love to help others, both patients and clinicians, who are going through what she went through.
No matter what happens next, there is already a happy ending: the woman I fell in love with married me three years ago and is now cancer-free, living with me in London. And our software is already helping millions of patients and doctors around the world.
How does an entrepreneur help his fiancé fight Cancer? With open source software, of course, was authored by Jorge Cortell and published in LinkedIn Pulse. It is reprinted by Open Health News with permission. The original post can be found here.