Open Source EHR Company Achieves 48 Percent Revenue Growth in 2016
Press Release | Medsphere Systems Corporation |
January 4, 2017
Record revenue backlog, expansion of client base, mergers and new product offerings set the stage for continued expansion in 2017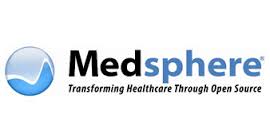 Carlsbad, Calif.—Medsphere Systems Corporation, the leading provider of affordable and interoperable healthcare information technology (IT) solutions and services, is welcoming the new year with excitement and anticipation following a busy and historic 2016. Significant recent achievements include an expansion of company products and services as well as a record number of new clients and unprecedented revenue growth.
The company's ongoing efforts to make affordable healthcare IT more widely available have resulted in specific indicators from the previous calendar year of growth and success:
48 percent increase in revenue
Record number of new OpenVista clients
Revenue backlog highest in the company's 14-year history
Expectation of over 40 percent revenue growth in 2017
"Medsphere heads into the new year with great enthusiasm and excitement," said President and CEO Irv Lichtenwald. "Even while many in the industry are struggling to maintain their historical revenue levels, the record number of new clients we signed last year and the significant jump in revenue demonstrates support for our unique business proposition. Many hospitals and physician practices need the affordability and comprehensive functionality that Medsphere's unique subscription model enables, so I expect 2017 to be a very successful year as well."
Medsphere significantly expanded its healthcare IT reach and product offerings by moving into the physician practice market via 2016 mergers with well-established ambulatory IT product providers: Cleveland-based MBS/Net and Salt Lake City's ChartLogic. Now operating under the ChartLogic banner, the combined physician practice-focused division gives outpatient providers a comprehensive solution that integrates EHR, practice management and revenue cycle solutions and services.
Building on the company's OpenVista EHR platform, Medsphere also enhanced support for providers and patients in the inpatient acute and behavioral health environments. The Mobile OpenVista Enterprise (MOVE) platform makes OpenVista support available on the iPad, and the NoteAssist clinical documentation tool streamlines the process of compiling patient data and incorporating it into various types of documentation. The OpenVista CliniDoc document management system makes creating, organizing and finding documents easier and more efficient. For clients participating in health information exchanges (HIEs) or just working to improve community health, Medsphere integrated a population health solution into OpenVista.
In 2017, Medsphere's ChartLogic division will introduce CliniDoc for ambulatory environments and Connect, a comprehensive web-based platform with clinical, practice management, revenue cycle management and patient portal solutions. Later this quarter, ChartLogic will release Connect's patient portal component, which enhances the patient experience and quality of care using any device or browser.
On the services side, Phoenix Health Systems, Medsphere's HIT services division, doubled its contracted revenue in 2016 and will ride this wave of momentum in 2017 to continue growth in hospital-based IT consulting and infrastructure services. Medsphere's Government Services Division, also home to the interoperability-focused Interfaces and Technical Services Group, anticipates continued professional services growth with our commercial, government (Indian Health Service and VA) and international customers as they move forward with new and existing healthcare IT programs.