Rep. Tulsi Gabbard Urges the USDA to Make GMO-Labeling Transparent, Accessible
Press Release | Rep. Tulsi Gabbard |
August 4, 2017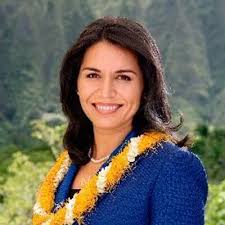 Rep. Tusli Gabbard (D-HI)Honolulu, HI–As the U.S. Department of Agriculture (USDA) develops final rules on GMO-labeling requirements over the next year, Rep. Tulsi Gabbard (HI-02) and fellow lawmakers called on Secretary Perdue to ensure labeling standards are consumer-friendly, fair, and transparent.
In July 2016, Congress passed weak GMO labeling standards into law that create a confusing web of disclosure options, allowing companies to choose between on-package text, a USDA-regulated symbol, or an electronic or digital link (e.g., QR code). While Congresswoman Tulsi Gabbard has long supported transparent right-to-know labeling requirements, she strongly opposed the legislation signed into law because it undermines Hawai'i and other states' ability to mandate GMO labeling, exempts many common foods from labeling requirements, and creates unnecessary extra steps for consumers to access basic ingredient information. The legislation also raised concerns by the FDA, as well as various environmental, food security, and consumer interest groups.
In a letter, Congresswoman Tulsi Gabbard stated:
"Nine out of ten Americans consistently report they want the right to know if their food is produced with genetic engineering, the same right held by consumers in 64 other countries. As the USDA works to establish a mandatory, national disclosure standard for GMO foods, we write to express our strong belief that USDA needs to meet consumer expectations, be consistent with international standards and be inclusive of all Americans – including consumers without smartphones, rural residents and the elderly. We expect USDA's mandatory GMO disclosure standard to apply to all GMO foods, including foods which contain ingredients like highly refined sugars and oils, as well as foods produced with new genetic engineering techniques."
Background: Congresswoman Gabbard has long fought for consumers' rights to transparency on GMOs. In 2016, Rep. Tulsi Gabbard was recognized as a top advocate of improving our nation's food system for her fight against the DARK Act and voting record in support of transparent and sensible food policy. She is an original co-sponsor of H.R. 913, the Genetically Engineered Right-to-Know Act, which would require the FDA to clearly label all foods containing genetically-engineered ingredients.