HIMSS12: eCollaboration Forum Takes Center Stage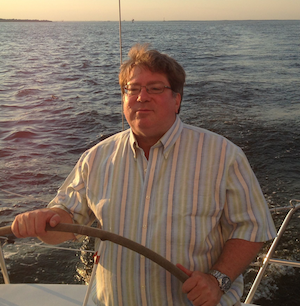 Roger A. Maduro Collaboration and open source solutions are taking center stage at this year's HIMSS conference in Las Vegas. An all-day eCollaboration Forum that will take place on Thursday, February 23, has captured the attention of the attendees and promises to be one of the best-attended events of the conference. The Forum will explore the creation of collaborative platforms as the foundation for a change from the current fragmented healthcare system to one based on Accountable Care Organizations (ACO's). This is a very successful concept borrowed from open source where communities work around an open source platform.
The forum is being sponsored by the Collaborative Health Consortium, formerly known as the Clinical Groupware Collaborative, and HIMSS (the Healthcare Information and Management Systems Society), the world's largest organization dedicated to health information technology. The forum will be part of HIMSS' annual conference taking place at the Venetian Sands Expo Center.
The eCollaboration Forum marks the first partnership between HIMSS and an outside organization in developing a program for the annual event. "We've put together an incredible program around Collaborative Platforms in conjunction with HIMSS," said Steve Adams, EVP of Collaborative Care and Health Improvement at Alere and Chairman of the Collaborative Health Consortium. "We have an amazing group of people who have committed to this movement and this Summit, and we are excited to see it come to fruition."
The eCollaboration Forum has a very impressive list of speakers. The speakers include Dr. Robert M. Kolodner, former VA CIO and former National Coordinator for Health IT for the United States. Kolodner will be representing Open Health Tools, the leading open health non-profit and will discuss the organization's open source initiatives in healthcare. In addition, the current National Coordinator, Farzad Mostashari will also address the meeting. Esther Dyson, who has been working on breakthrough innovation in healthcare, will address the forum as well as a well-known medical expert Dr. David Kibbe and healthcare IT blogger Shahid N. Shah. In total there will be more than 20 speakers addressing the Forum.
The range of topics and presentations is also impressive. As the program states, the overall concept is that "collaborative health technologies offer a flexible solution that can connect disparate provider and payer platforms and facilitate interoperable EHRs." The one-day forum will feature the following topics to expand on the key concepts:
How collaborative health platforms augment the entire healthcare ecosystem
Best practices and success stories that provide valuable guidance
Changing market dynamics driving collaborative care
Strategies to implement collaborative technologies
How to evaluate products and resources
The list of sponsors tells a very interesting story. The major sponsor of the eCollaboration event is Microsoft. This signals a major realignment for both HIMSS and Microsoft in terms of their strategic perception of open source. Both were formerly fierce opponents of open source solutions. Now they are both shifting rapidly in their outlook. Wired Magazine just published a fascinating article on the inside story of how Bill Gates, Microsoft's founder, and former chairman, personally oversaw the ongoing shift by Microsoft to an open source strategy. This strategy is particularly clear in Microsoft's healthcare IT strategy where most of the company's efforts are centered around open source solutions.
In terms of HIMSS, the organization is going far beyond the eCollaboration Forum as it embraces open source and collaboration solutions. Preceding the conference, HIMSS announced it has partnered with Open Health Tools (OHT). As we have noted above, OHT, founded by Skip McGaughey after years of work as co-founder and chairman of the Eclipse Foundation, is the largest organization focused on open solutions in healthcare in the world. OHT is modeled on the Eclipse Foundation.
According to an article by Mike Millard in Healthcare IT News, "OHT and HIMSS have agreed to collaborate on several fronts, including the use of open source technology, conferences, and resources, such as white papers and webinars." According to Millard, "This partnership will result in a new effort to deliver healthcare industry-specific guidance and non-proprietary solutions that aid in enabling the national vision of secure and seamless exchange of health information."
In addition to all these events, there is an entire range of presentations throughout the HIMSS conference featuring open source solutions. We will be writing additional articles on these presentations in the next few days.
For those interested in attending the eCollaboration summit, it would behoove them to register soon as space is limited. At the same time, due to the limited seating at the forum, the conference will also be broadcasting the sessions in an all-day webinar. Details and registration can be found here.
Speakers
The following speakers have been confirmed for the eCollaboration Forum:
Robert M. Kolodner, MD, Chief Health Informatics Officer, Open Health Tools
Farzad Mostashari, MD, ScM – National Coordinator for Health Information Technology
Esther Dyson – Principal, EDventure Holdings
John Mattison, MD – Assistant Medical Director and CMIO of Kaiser Permanente, SCAL
Jeremy Nobel, Medical Director, NEBGH
Jinesh Varia, Technology Evangelist, Amazon Web Services
Mark Blatt, MD, MBA – Worldwide Medical Director, Intel, "Collaborative Care: An Economic Imperative for Care Delivery Systems"
David Whitlinger – Executive Director, NY eHealth Collaborative "Supporting New Models of Care Through Collaboration with States & Vendors"
Steve Adams – President and Chairman, Collaborative Health Consortium; EVP Collaborative Care, Alere
David Kibbe, MD, MBA – The Kibbe Group and American Academy of Family Physicians "Developing Trust in the Health Internet as a Platform"
Vince Kuraitis – Principal, Better Health Technologies "The Future of Collaborative Health Platforms"
Shahid N. Shah – CEO, Netspective and Blogger at HealthcareGuy.com "The Future of Collaborative Health Platforms"
Brian Ahier – Health IT Evangelist, Mid-Columbia Medical Center
Joshua Newman, MD, MSHS – Director of Product Management and Health Strategy, Salesforce.com
West Shell III – Chairman and CEO, Healthline
Scott Rea – Vice President GOV/EDU Relations and Senior PKI Architect, DigiCert
Joseph Miller – Director of eBusiness, AmeriHealth Mercy
Jordan Shlain, MD – CEO, HealthLoop
Bettina Experton, MD, MPH, President and CEO, Humetrix
Josh Mandel, MD, Lead Architect, SMART, Harvard Medical School
Brian Prestwich, MD, Assistant Professor of Family Medicine, Keck School of Medicine USC
Rushika Fernandopulle, MD, President, Iora Health
Jonathan Hare, Chairman, Resilient Network Systems
Richard Migliori, MD, Executive Vice President, Business Initiatives & Clinical Affairs, Chief Healthcare Officer, UnitedHealth Group Alliances
Dave DeBronkart, @ePatientDave, Society for Participatory Medicine
Scott Barclay, Chief Strategy Officer, SureScripts
Jinesh Varia, Technology Evangelist, Amazon Web Services
Sherri Zink, Vice President, Medical Informatics, Blue Cross Blue Shield of Tennessee
Meg McCabe, Vice President of Consumer Marketing & Product, Aetna
William Moschella, Co-founder, CEO, eVariant