CES 2019 In Vegas to Feature Patient-Centric Open Health IT Innovations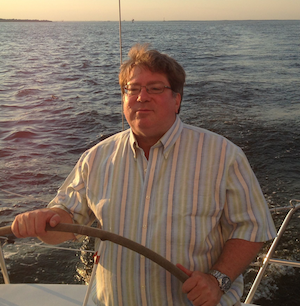 Roger A. MaduroCES is the world's gathering place for all those who thrive on the business of consumer technologies. It has served as the proving ground for innovators and breakthrough technologies for 50 years - the global stage where next-generation innovations are introduced to the marketplace. This year's conference has a health and wellness track as well as many health IT vendors in the exhibit. One of the most significant announcements will be the release of iBlueButton 8 by Humetrix.
Blue Button is one of the core elements of the White House open source health IT strategy that we wrote about here. Humetrix has developed a mobile health platform and the latest version will be unveiled at the conference. Dr. Bettina Experton, CEO of Humetrix says that "we have arrived at a time where the power of information placed in the hands of patients on their own smartphones with access to critical data such as Medicare Blue Button data and computed with intelligent software tools can help cure horrific pain and suffering, such as these due to preventable medical errors which are the 3rd cause of death in America"
There are several tracks. One of the key tracks is the Digital Health track that can be seen below.
Digital Health
Technology is putting health care directly in the hands of consumers. From remote monitoring products, to wearables to diagnostic solutions, the health care industry is embracing new tools and technologies to enhance the patient experience.
Tech Revolutionizing Medicine - If We Let It
Revolutionary technologies have the potential to cure diseases, drive efficiency and bring down barriers between doctors and patients. How do we cut through bureaucracy and regulation to safely and expeditiously bring these new approaches to the marketplace?
Rene Quashie, VP, Policy and Regulatory Affairs, Consumer Technology Association
Colin Anawaty, Executive Director, athenahealth
Dr. Bettina Experton, Founder and CEO, Humetrix
Ross Friedberg, General Counsel & Chief Privacy Officer, Doctor on Demand
Marc Goldsand, Member, Cozen O'Connor
Drew Schiller, CEO, Validic
Patient Decade Commences: Tear Down These Walls!
In today's health care landscape, critical patient assessments are made within short appointment-based interactions with physicians. The next decade of digital health is tearing down these walls as patient-generated health data (PGHD) collected from tech resources are allowing for comprehensive and continuous patient care programs. We've convened three key stakeholders - a type 2 diabetes patient, a provider who has designed/managed remote care programs, and a health technologist specializing in data workflows and analytics - for a close look at the true potential of remote-care programs.
Drew Schiller, CEO, Validic
Michael Swiernik, MD, Diplomate, Clinical Informatics Medical Informatics, SSD Kaiser Permanente
Steve Van, Patient Advocate, PGHD for Chronic Conditions
The Future of Health Care IoT is State-of-the-Art
12:30 PM Join the industry leader in mobile-to-mobile communications, as well as the sole purveyor of a HIPPA and HITECH compliant IoT Platform for this hot-ticket presentation where they'll dive into their end-to-end solution. Watch as they demonstrate cutting-edge health care technologies from companies such as Hanger and Medtronics, and get an exclusive glimpse into AT&T's emerging communications that are enabling a new-age innovation-the FIRST of its kind. Then at 12:45 PM, lunch will be hosted by Living in Digital Times, Producers of The Digital Health Summit.
Thyge Knuhtsen, Director, Healthcare Industry Solutions, AT&T Business
Posted January 5, 2019 - 3:09pm by Roger A. Maduro