MichiganTech Professor, Student Help Bring Medical 3-D Printing to Nicaragua
Press Release | Michigan Technological University |
November 17, 2015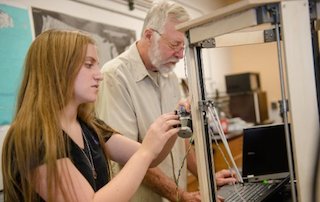 Jill Poliskey, a Portage Health Foundation undergraduate research scholar, works with Eric Friesen from Nicaragua to build 3-D printing technology for students in his country.November 17, 2015—With all the technology we have today, there are so many possibilities. The whole world can collaborate and create open-sourced information to help develop thousands of scientific uses for various new technologies like 3-D printing.
Enabling the Future is an organization that is doing just that. It is a global network of passionate volunteers using their 3-D printers, design skills and personal time to give the world a "helping hand" with free 3-D-printed prosthetic hands for those in need.
Recycling Waste Plastic
Eric Friesen, who works with Enabling the Future, wants to bring Michigan Tech open-source RepRap 3-D printing and recyclebot technology to Nicaragua. The recyclebot is a machine that converts recyclable waste plastic to 3-D printer filament.
Friesen found Enabling the Future by browsing the internet. When he read about the network's efforts, he was hooked. For the past three to five months, he has been sending emails and posting on Facebook to try to reach others who could help him get a 3-D printer into Nicaragua. His search finally led to Joshua Pearce, an associate professor in Michigan Tech's Departments of Material Science and Engineering and Electrical and Computer Engineering.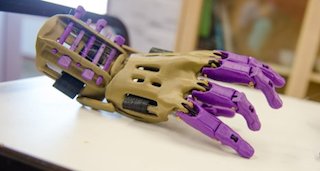 "We want a scalable model of distributed manufacturing for Nicaragua that includes free computer-aided design (CAD) files of all the equipment, accessible supplies and will require limited training," says Pearce, whose research has focused on 3-D printing and open-source hardware.
Many of the materials easily accessible online in the United States are extremely difficult for Nicaraguans to obtain. Therefore, Pearce decided to teach Friesen how to bypass customs restrictions on imports of filament and 3-D printers by bringing in a single 3-D printer that can self-replicate using available alternative filaments or local waste materials fed into the recyclebot.
3-D Printer Headed for Nicaragua
Last week they successfully completed modifications to the base Michigan Tech 3-D printer design that allows the machine to print with weed wacker line and other materials accessible in Nicaragua. Friesen and Jill Poliskey, an undergraduate research fellow, spent two days building and testing a Michigan Tech RepRap 3-D printer. Poliskey's research fellowship is supported by the Michigan Tech-Portage Health Foundation partnership, through the Pavlis Honors College.
Friesen and the printer made it back to Nicaragua with the help of some kind U.P. TSA agents. Its primary purpose is now creating open source medical hardware like "helping hands", but he is also using the printer to build other 3-D printers to house at local universities there. "This technology can be used to help adults who need prosthetics and need to work for a living," says Friesen. "It can be life-changing around the world."
Pearce adds, "Hopefully, one of these "helping hand" recipients will see the technology they are benefiting from and one day be interested in creating and sharing open designs for someone else."
Michigan Technological University (www.mtu.edu) is a leading public research university developing new technologies and preparing students to create the future for a prosperous and sustainable world. Michigan Tech offers more than 130 undergraduate and graduate degree programs in engineering; forest resources; computing; technology; business; economics; natural, physical and environmental sciences; arts; humanities; and social sciences.