OSEHRA Corporate Membership Doubles as Interest in Open Source EHRs Surges
Press Release | OSEHRA |
November 3, 2014
Arlington, VA – The Open Source Electronic Health Record Alliance (OSEHRA) is pleased to announce that its Corporate Membership has doubled in the latter half of 2014. This expansion demonstrates a growing interest in open source and follows OSEHRA's very successful
3rd Annual Open Source Summit
.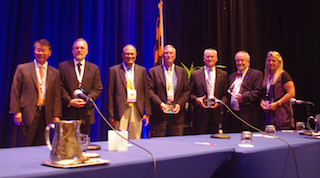 2014 OSEHRA Open Source EHR Summit SponsorsNew OSEHRA Corporate Members include:
"This is a very exciting time for OSEHRA and the open source community," said Dr. Seong K. Mun, President of OSEHRA. "Our initial members are introducing unique open source products and services, spurring rapid interest in OSEHRA and our philosophy. With the addition of these innovative corporations as Corporate Members, the Alliance is certain to be more diverse, wide- reaching, and dynamic than ever before."
The ten new Corporate Members offer a breadth of expertise and services including electronic health record solutions for medical facilities, government information technology (IT) for the U.S. Department of Defense and the U.S. Department of Veterans Affairs, healthcare processing, health IT, public healthcare, and software development. They also include an international corporation, a nonprofit, three Service-Disabled Veteran-Owned Small Businesses (SDVOSB), and a Veteran Owned Small Business (VOSB).
They, along with more than 325 academics, clinicians, developers, government officials, industry leaders, and members participated in the 2014 OSEHRA Open Source Summit—with representation from the United States, Canada, India, Jordan, Mexico, Romania, South Korea, and the United Kingdom. This unique forum showcased the role of OSEHRA and its members in government and private sector open source operations, electronic health record (EHR) development, domestic and international market opportunities, and collaboration in state-of-the- art solutions.
OSEHRA Members are also deeply engaged in other initiatives, including the recent submission of an open source proposal for the DOD Healthcare Management Systems Modernization (DHMSM) contract and a concerted effort to achieve open source code alignment of the Veterans Health Information Systems and Technology Architecture (VistA) EHR software. Additionally, OSEHRA has launched its monthly Innovation Webinar Series, which has drawn significant community participation in these educational seminars.
Anyone interested in the advancement of electronic health records and health IT is encouraged to become a member of OSEHRA. Individual and Corporate Memberships are available.
###
OSEHRA is a nonprofit organization dedicated to accelerating innovation in electronic health record software and related technology. Founded in 2011, OSEHRA is a rapidly growing open source community with over 2,600 registered members representing 160+ industry, academic, and government organizations. OSEHRA supports an open, collaborative community of users, developers, and researchers engaged in advancing electronic health record software and related health information technology. OSEHRA hosts software repositories for applications such as the Department of Veterans Affairs' VistA electronic health record. OSEHRA is a member of global industry associations including the American National Standards Institute (ANSI), the Healthcare Information and Management Systems Society (HIMSS), Health Level 7 (HL7), and Integrating the Healthcare Enterprise (IHE).
AbleVets LLC is a Service Disabled Veteran Owned Small Business providing health information technology services for the U.S. Department of Veterans Affairs. AbleVets currently provides development, integration, security, and hosting support for VHA's mobile and health application programs.
Business Information Technology Solutions Inc. (BITS) is a Service Disabled Veteran Owned Small Business (SDVOSB) and Veteran Owned Small Business (VOSB) registered and Verified by the U.S. Department of Veterans Affairs as a SDVOSB. BITS specializes in providing strategic enterprise information technology services and solutions to Veterans Affairs, the Department of Defense, Federal, Local and State Governments. BITS is a Prime contractor partnered with product and technology vendors in Healthcare, Enterprise Resource Planning, and Business Intelligence and Analytics solutions.
Electronic Health Solutions (EHS) is a non-profit, innovative, technology-driven company that provides automated solutions to enhance the quality and efficiency of public health care services offered in Jordan, founded in 2009. Over the incoming years, EHS will concentrate its efforts on successfully implementing its flagship program, Hakeem. Hakeem uses the local broadband network infrastructure to enable physicians, pharmacists, medical technologists, and other clinicians to electronically access medical records of patients within participating health facilities in Jordan simply by entering the patient's national number.
FIS GT.MTM is a database engine with scalability proven in the largest real-time core processing systems in production at financial institutions worldwide, as well as in large, well known healthcare institutions, but with a small footprint that scales down to use in small clinics, virtual machines and software appliances.
Global eSolutions Group, LLC is a business dedicated to changing the current paradigms of Health Information Technology. GEG offers the full functionality of large hospital scale Electronic Medical Record solutions and end to end paperless environments to individual practitioners, at a price that any health care professional can afford. GEG offers an integrated solution – a suite of services designed to help you grow your company by addressing all electronic data storage, tracking, and retrieval needs.
GovernmentCIO is a Service Disabled Veteran Owned Small Business (SDVOSB) headquartered in Columbia MD, with offices in Washington, DC. GovernmentCIO's goal is to be the preeminent source for new ideas in transforming government IT. GovernmentCIO is a nationally recognized brand that publishes the thought-leading monthly GovernmentCIO Magazine and delivers industry-leading IT management consulting services.
LongView International Technology Solutions, Inc. is an acknowledged and award winning multi-ISO/CMMI appraised company focused on delivering first-class solutions to solve our clients' business and technical challenges in providing quality healthcare and security to our nation. LongView provides trusted consulting, and solutions in an increasingly complex and growing world. Our deep expertise in technology and analytics helps us serve a broad constituency of clients that range from cabinet-level departments of the U.S. Government to the largest Federal IT contractors in the world.
PricewaterhouseCoopers US and its subsidiaries help organizations and individuals create the value they're looking for. PwC US is a member of the PwC network of firms, which has firms in 157 countries with more than 195,000 people who are committed to delivering quality in assurance, tax and advisory services.

Technatomy Corporation is a Service-Disabled Veteran-Owned Small Business (SDVOSB) with core capabilities in Program Management, Software Development and IT infrastructure. Technatomy's focus on quality management in the delivery of solutions has been validated by its CMMI Maturity Level 3 appraisal and ISO 9001:2008, ISO 20000, and ISO 27001 registrations. Technatomy's customers include: the Department of Veterans Affairs, Department of State, the Department of Treasury, the Defense Logistics Agency, the Department of Health and Human Services, the Department of Education, the Department of the Interior, and the Department of Transportation.
Vecna delivers healthcare information technology, including patient self-service solutions, infection control and pharmacy stewardship software, and logistics robotics that help healthcare organizations improve outcomes, lower costs, and achieve Meaningful Use. Vecna works extensively with open source products, tools and applications to deliver the best quality solutions for our clients. We believe in the power of open source to create better, more robust tools for today and for the future. Vecna aims to create better technology to realize a better world for all.