Selected Amongst 26 Companies, ClinCapture Takes Home Finalist Nomination for Stratus 2016 Awards
Press Release | ClinCapture, Business Intelligence Group |
July 26, 2016
The Business Intelligence Group announced that it has awarded ClinCapture a 2016 Stratus Finalist Award in the Cloud Computing Category.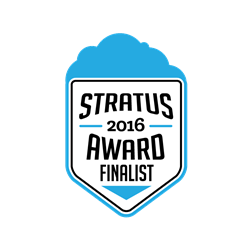 San Francisco, CA (PRWEB) July 26, 2016--ClinCapture, the only free validated electronic data capture (EDC) software, is pleased to announce its Finalist position in the Cloud Computing category for the 2016 Stratus Awards. Awarded by the Business Intelligence Group, ClinCapture shares the stage with leading companies such as SnapLogic and NetApp. The Stratus Finalist position is the fourth recognition ClinCapture received in the last 8 months for its cloud-based eClinical software and innovations.
The Stratus awards annual contest selects companies that innovate and standout from their peers. ClinCapture was selected in the Cloud Computing category for its mission to create a user friendly approach to building, deploying and managing clinical studies. The eClinical software provider proves dedicated to bringing Electronic Data Capture accessible to any companies, whatever their size, resources or budget.
"We are elated to be named a Finalist for such an innovative award," stated Marc Desgrousilliers, Chief Technology Officer. "It comes with honor to be recognized alongside companies including Adaptive Insights and QAD Inc. This year's Stratus Awards nominees are continuously innovating in the Cloud and providing offerings that are truly differentiating the market."
Business Intelligence Group sought to identify the companies, products and people that are offering unique solutions that take advantage of cloud technologies.
"Congratulations to the entire ClinCapture team for helping accelerate adoption of the cloud and for working to make all of our lives a little richer," said Russ Fordyce, Managing Director of the Business Intelligence Group. "The cloud is dominating the technology industry and we do not see any markers for that trend not continuing."
This is the fourth recognition ClinCapture received this year for its cloud-based eClinical software. ClinCapture took home the Bronze Stevie Award in June 2016 for Best New Product of the Year, the Utah Innovation Award in May 2016, and the finalist position of the BioIT World in April 2016 for ClinCapture CTO Marc Desgrousilliers' paper on "Disrupting Clinical Trials in the Cloud". Read white paper.
ClinCapture is the only validated electronic data capture software, available for free. As a leading cloud-based eClinical software, ClinCapture empowers CROs, Pharmaceuticals and Medical Device companies to build their studies themselves, lower their clinical trials costs and streamline their data capture processes. ClinCapture is headquartered in the Silicon Valley.
About Business Intelligence Group
The Business Intelligence Group was founded with the mission of recognizing true talent and superior performance in the business world. Unlike other industry and business award programs, business executives judge the programs. The organization's proprietary and unique scoring system selectively measures performance across multiple business domains and then rewards those companies whose achievements stand above those of their peers.