The 5 Essentials of Cloud Computing For Clinical Trials
Marc DesgrousilliersIn recent years cloud computing has graduated from an oft discussed buzzword to a pervasive force in the IT world. Today, the majority of commercial and enterprise Internet services we sign up for will have some aspect of cloud involved in their architecture. Companies such as Dropbox and Salesforce base their business models on the fact that your data is stored in the cloud and is accessible from anywhere. More than this, they break down the barrier to entry whereby software like this was once required to be purchased through a sales person and set up for you; as it stands now you simply sign up online, enter your billing information and you're ready to go.
The pharmaceutical industry has been historically slow in adopting new technologies and it is only now that we are beginning to see the emergence of cloud based eClinical systems for the clinical trial industry. This article explores the true definition of cloud computing as defined by the National Institute of Standards and Technology (NIST) and applies it to eClinical systems.
The Official Definition of Cloud Computing
The five essential characteristics of cloud computing may not be considered breaking news, however their application in the world of life science companies still remains somewhat unchartered territory. It wasn't until 2011 (and it took over two years and 15 drafts), that these five essential characteristics were finally defined by the National Institute of Standards and Technology (NIST). We now have a clear set of parameters that must be met in order for a service to be deemed to be truly 'cloud.'
In the 16th and final version of the NIST Definition of Cloud Computing, it is stated that anything delineated as cloud must have the following characteristics:
On-demand and Self-service
Broad network access
Resource pooling
Rapid elasticity
Measured Service
The Cloud in Layman's terms
While these terms may be well understood by IT professionals, to the average man on the street they may not paint a clear picture of what a cloud-based system actually is. In fact a recent survey commissioned by Citrix found that a majority of American adults didn't understand what 'cloud computing' was, with 51% believing that stormy weather could interfere with it and 54% stating they had never used it - even though 95% actually did.
Let me attempt to define the cloud in Layman's terms using the following analogy courtesy of Alan Merrihew, Senior Director of Government Technology Strategy at Microsoft. Imagine you have guests coming to stay with you who require a car during their stay to make trips. Do you buy a car for them to use and then leave it sitting idly until their next visit? No! It would be extremely costly and inefficient. The obvious answer is that you would rent a car for them to use. Cloud services are essentially like a car rental service, only for the IT world. If we explore this analogy using the five characteristics of cloud, the picture becomes a lot clearer.
On-demand self-service (it's easy to rent a car, you can book a reservation by phone or online).
Broad network access (there's a broad network of rental car agencies around the world to give you access to a car rental).
Resource pooling (the rental car companies manage a pool of cars in any given city to meet demand. You don't have to worry about it. If one agency is out of cars they will often refer you to another to help you find a car).
Rapid elasticity (rental car companies move cars into a particular location when there is a large event and they know demand will be high. They scale up and down to meet the demand.)
Measured service (you pay only for the time you used the car. Once you return it you are done. There is no maintenance, insurance, fuel, tires, or other costs to take of).
The EDC Market
We will use Electronic Data Capture (EDC) as our point of reference to illustrate the operational, cost, and time-saving benefits that would be afforded by a cloud-based eClinical system. Electronic Data Capture (EDC) systems are used to capture and manage clinical data during clinical trials, so that it can ultimately be presented to the FDA for approval.
Let's first examine the current state of EDC in the industry. Despite clear and measurable benefits, the adoption of EDC systems has remained slow in some segments of clinical research with only 40% of Phase I clinical trials having adopted EDC by the end of 2012. What are the barriers to entry for EDC and how can the cloud help alleviate those barriers?
Cost
The initial cost of EDC is a major deterrent to its adoption, especially for preclinical or Phase I clinical trials with limited budgets. The most significant costs are incurred when hiring vendor(s), assigning clinical and data management experts to interface with programmers, and setting up internal computer systems, including the purchase of hardware and software.
Vendor Selection
However efficient EDC may be as opposed to recording the results on paper, the process of setting up a study can be a long and arduous one. For example, the sales cycle is particularly long; you cannot evaluate an EDC system without first speaking directly to a sales representative from that company. This is all well and good, however if evaluating several systems it's likely you will spend a considerable amount of time on phone calls and you will then have to collate, evaluate and compare all the information in order to make a decision, only to follow up with face to face meetings with your top choices. This process can take months.
Implementing Your Study
On top of this, once your choice is made, your EDC provider will then get to work on your study build. We're talking about manually programming CRFs and any other customizations that your study may require; for example do you require randomization or visual reporting capabilities? In terms of payment there is often an upfront cost and a contract to sign that bind the user in to using the proprietary system for a set period of time. In addition there are often hefty license fees involved that can reach upwards of $500,000 per clinical trial.
There is also the time it takes to implement; much of the untapped EDC market includes many Phase 1 studies which generally last a maximum of 8-10 weeks. If a Database takes six weeks to implement, this is a problem.
Data privacy and security are also major concerns among trial investigators cite the steep learning curve, training, and changes to the structure and processes as their primary concerns in adopting EDC.
So we can see that in the current environment there are a lot of processes an EDC vendor must take into consideration, and then spend significant time implementing, which can ultimately result in low adoption rate.
Now, let's say we have a cloud-based EDC system (imagine Salesforce but for the clinical trial industry.) By applying each parameter of NIST's definition of Cloud computing to this eClinical system, we can begin to measure the benefits that each of them brings to the overall clinical trial process.
On Demand Self-Service
An on demand self-service system is one that is available when the consumer wants it, which is made possible by self-service and automation. This essentially means that the user performs all the actions needed to acquire and utilize the service themselves, instead of going through an IT department.
Simplifying the selection process
Applying our initial example of a cloud-based EDC system for clinical trials, we see that the evaluation and sign-up process now becomes an extremely easy process. The evaluation would take place online and a user could immediately sign up for a free 30-day trial by simply entering their credit card details which would give instant access to the online control panel. If a user wishes to call for more clarification, they can do so, but in essence they're ready to try out the system themselves and start instantly. Thus, the user has avoided the entire sales cycle, saving both time and money. Does the user like the service? Do they wish to continue using it? If they don't, they can cancel their subscription, if they do, they do nothing. It's really quite simple.
A key example of on demand self-service in the entertainment industry is video streaming service Netflix. According to recent figures Netflix accounts for over 30% of nightly home internet and has been described as 'The biggest cloud app of all.' The service allows users to sign up instantly and pay a monthly subscription for unlimited streaming which can be cancelled at any time.
IT disintermediation: Empowering users
With a cloud-based EDC system, there is no programming involved, as anything resembling this could not be deemed self-service; if it's too confusing, cumbersome, or complicated for a user to perform the actions themselves, it doesn't meet the requirement of self-service. When it comes to EDC systems, the current process requires developers to manually program eCRFs.
In the cloud, users will build their eCRFs using an online builder. They set the parameters for their study build, and they set up their database with a few clicks depending on how many patients their study contains. This IT disintermediation transfers the power and control into the hands of the user; they dictate how their system functions without needing any external input.
It also means that onsite trainings become obsolete. The user learns how to use the system by themselves, without relying on IT or having to acquire specific technical skills. Any training will be a self-service feature and would be available online so that there are no barriers to using the system. At best, the system will be so intuitive it needs no instruction to use. Whilst this is not a requirement of the cloud, it is a common trend observed in the majority of cloud services. For example, the email client MailChimp doesn't require trainings; it is so simple and intuitive that users can start using it in minutes. In the world of EDC today, we are still far from this.
Broad network access
According to a recent report by Intel, by 2015, 'the Internet will connect 2.5 billion people and more than 15 billion devices.' This will facilitate rapid growth in the cloud based on the fact that 'a new cloud server is added for every 600 smartphones or 120 tablets in use.'
With broad network access, cloud-based systems become available over the internet often through a web browser using HTTP, HTML, XML, Java, SOAP, or other standard protocols. This promotes wide usage by heterogeneous platforms on a large range of devices, such as tablets, PCs, Macs and smartphones. These resources are also accessible from a wide range of locations that offer online access.
The often-global nature of clinical trials means that clinical data may need to be recorded across the globe in a variety of environments. This is why accessibility and the ability to synchronize data across multiple platforms and devices is key. The cloud enables clinical trial professionals access to eClinical systems wherever they are needed without requiring local install or setup, which brings a reduction to on-site IT resource requirements.
Resource Pooling
Resource pooling is the sharing of computing capabilities. It allows system users to rely on external hardware resources and prevents them from having to purchase IT equipment upfront. They can then optimize the use of resources in the long-term, resulting in cost-savings and increased efficiency.
Using the example of the Google's mail client Gmail, we can observe that each user is allocated a resource in the form of 15gb of storage for their mailbox. While 15gb is allocated this doesn't necessarily mean the storage is sitting there idly waiting for the user to fill it. This particular resource, in the form of storage, serves multiple clients with a provisional and scalable service. It means it can be adjusted to suit the individual's requirements without any apparent change to the client or the end user. In this particular example, where there are millions of other users with varying levels of storage requirements all pooling resources, it is known as a public cloud.
Cloud Types and Data Security
Traditionally the cloud is split into four types: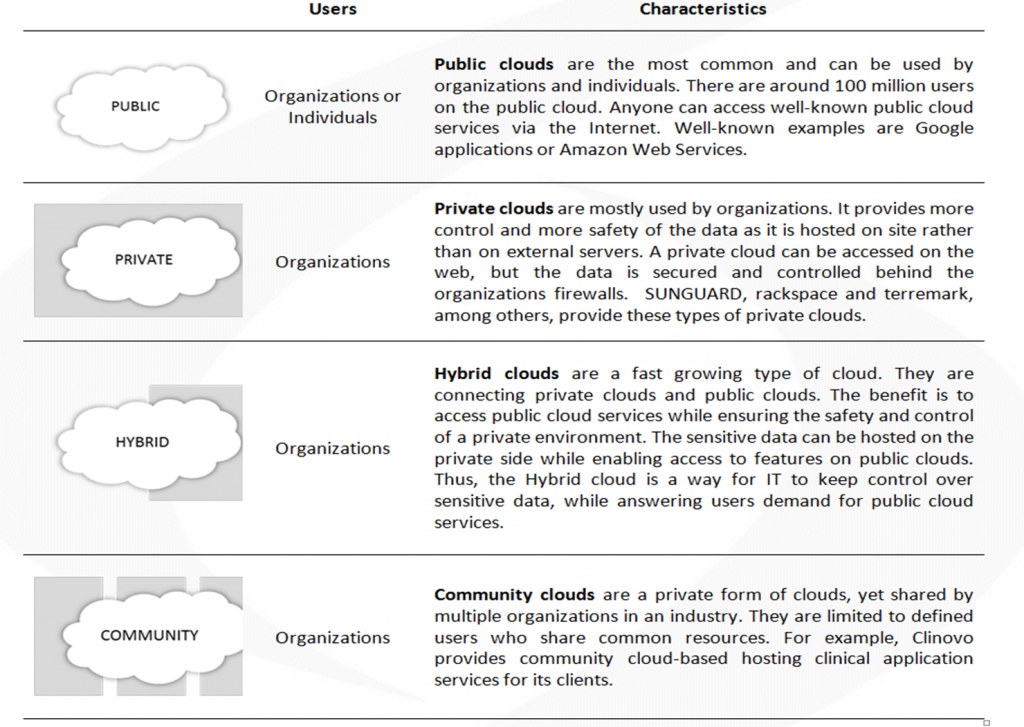 The very notion of a public cloud being used for sensitive clinical trial data is one of the primary concerns for life sciences professionals when considering with possibilities of adopting cloud-based eClinical systems. The issue of data security is paramount in the clinical trial process as patient's details are extremely confidential, and as such public clouds do not provide the level of security required.
For this reason, biotech companies may use private clouds in order to maintain a level of security not offered by public clouds. They provide a much higher level of control and security of data. A private cloud is not necessarily located somewhere other than your own premises. In fact, a private cloud server may be located on your own premises, in a co-location facility or at a cloud provider's location. Wherever it is, it is dedicated solely to your organization and as such can still be accessed via the web but the data is secured behind the company's firewalls.
Another option is a hybrid cloud, which is a combination of a public and private cloud. The benefit here is to access public cloud services while ensuring the safety and control of a private environment. The sensitive data is hosted on the company's private servers while enabling access to system features hosted on the private cloud. Thus, the hybrid cloud is a way for IT to keep control over sensitive data, while answering users' demand for public cloud services. In terms of an EDC system, a hybrid cloud provides each user with the same interface, features and functions hosted in a public cloud environment, but with their data being stored securely in a private cloud infrastructure.
Finally we have community clouds. Still a private form of cloud, they are shared between multiple organizations in an industry but are limited to strictly defined users who share common resources. A simple example would be how our company Clinovo offers community cloud-based hosting clinical application services and our client's data is stored on a shared private cloud that is secured onsite by us.
Rapid Elasticity
Rapid elasticity refers to the ability of a cloud service to scale on demand. Resources such as storage, bandwidth, or memory can be provisioned in a matter of minutes and scaled down when no longer needed.
For instance, a cloud-based EDC system would automatically support an increase, or decrease for that matter, in study size. This mid-study change would be seamless and would not affect performance; there would be no concern as to whether a particular server could handle the increase, it would simply work.
A real word example of this can be observed from Microsoft's Windows Azure, a cloud computing platform and infrastructure for building, deploying and managing applications and services through a global network of Microsoft-managed datacenters.
Microsoft's Social eXperience Platform (SXP) is a multi-tenant web service that powers community and conversations for many sites on microsoft.com. In 2011 an influx of online ads, which typically run for a day or two, caused temporary spikes in web traffic. Compared to the previous month's average daily traffic the increase was a dramatic 700%. Traditionally, the only way to handle such an increase is to over-purchase capacity in advance of the ads running, but in this case the SXP team decided instead to double their Windows Azure compute capacity to ensure they could handle the load, going from 3 to 6 servers on their web tier within an hour of making the decision. The total human time to accomplish this was a couple of minutes and a change to one value in an XML file - Windows Azure took care of the rest. Within half an hour, they validated via the logs that they had doubled their capacity and all web servers were taking traffic. Full-retail cost for the burst capacity was $70 plus about 5 minutes of operations time.
From this example we can see how rapid elasticity could offer freedom for clinical research to start quickly without the foresight of how issues of scalability might come into play. In this sense there is less planning required because if the project does indeed scale up or down, the cloud infrastructure will be able to handle it almost instantaneously.
Measured Service
With a measured service, certain aspects of the cloud service are controlled and monitored by the cloud provider. This is crucial for things like billing, access control, resource optimization, capacity planning, and many other tasks. The large benefit here is that resources are automatically controlled and optimized through metering, and resources can be monitored, controlled, and reported to both the provider and end user.
As an example, the user can pick from a monthly/annual pricing structure that works for them. For example there may be several tiers of service offered (currently Salesforce offers five: Contact Manager, Group, Professional, Enterprise, and Performance.) Once the selected tier is chosen, there will be no nasty surprises in terms of billing and the user will be notified if their usage begins to reach a level of higher tier. It then simply becomes a case of selecting this higher tier in the user account settings; no calls to support staff to increase hosting, add user accounts, or add features.
The term 'on-demand' (that we observed in the first of NISTS's parameters for a cloud-based system) conjures the idea of pay-per-view television or similar entertainment services. A cloud-based EDC system would act no differently in terms of its pricing structure. A pay-as-you-go, pay-for- what-you-use pricing model would be adopted as opposed to current proprietary software model that sees users locked into paying hefty annual license fees. Much like in the analogy of renting a car, you pay for what you use, when you use it.
In terms of your EDC system, do you require features like randomization, visual reports, or medical coding? Perhaps you do but for only one month. In this case, features can be deployed only for the time that you need them. In addition, plug-and-play modules can be added at your convenience and are simply added to your monthly bill.
Clearing up the cloudiness: Validation in the eClinical cloud
Now that we've covered the definitions of a cloud-based service, we're going to switch gear a little bit and address regulatory concerns. There is a lot of 'cloudiness' around the topic of validation and 21 CFR Part 11 compliance for eClinical systems in the cloud. The first thing one must recognize is adherence to regulation and validation is the primary concern with a cloud-based clinical system. Many people pose the question "Is the cloud validated?" The answer is that you, not the cloud or system provider, are responsible for validation and compliancy. Cloud vendors do not provide validated applications, but rather provide applications that are qualified through standard IP/IQ (Installation Protocol & Qualification), OQ (Operation Qualification) and PQ (Performance Qualification) approaches.
The FDA makes it very clear what needs to be done; whether it's on-premise, whether it's hosted by a provider or cloud-based, you must validate your system exactly the same way. One must ensure the data is secure and private, that disaster recovery is in place, and that the hosting facility has management controls around access and security, change controls, and finally validation. On top of this, the FDA do not certify cloud applications; they look to determine if they are compliant with the necessary regulations. So the company implementing cloud-based eClinical system, such as an EDC, is responsible for validating their application against the guiding regulations and standards. In the Life Science industry, those include GxP and 21 CFR Part 11.
Conclusion
The application of the five characteristics of cloud computing to EDC clearly indicates the benefits that cloud computing can offer to eClinical systems, and the pharmaceutical industry at large. The key theme is that it removes the barriers to entry to starting a clinical trial whilst simultaneously improving efficiencies. As we have observed these barriers include the cost, infrastructure changes, steep learning curve, scalability, and implementation of eClinical systems, all of which can be addressed by the cloud.

That is not to say that cloud adoption remains an entirely simply process for the life sciences industry. We must ensure the life sciences professionals are properly educated in order to avoid instances where innovative technology that can benefit the industry is neglected due to perceived risks. These risks can be easily avoided by following protocols and relying on experts.
Ultimately, we believe cloud computing technologies will revolutionize the healthcare and life science industries, enabling pharmaceutical companies to bring their drug to patients faster at a lower cost.
Sources
1. "The NIST Definition of Cloud Computing - Recommendations of the National Institute of Standards and Technology" Peter Mell, Timothy Grance, September 2011.
2. "Citrix Cloud Survey Guide" Wakefield – August 2012
3. "eSource Implementation in Clinical Research: A Data Management Perspective" Society of Clinical Data Management, September 4th, 2013
4. "Netflix accounts for 1/3 of nightly home Internet traffic, Apple's iTunes takes 2%" AppleInsider May 14, 2013
5. "The biggest cloud app of all: Netflix" Steven J. Vaughan-Nichols, ZDnet April 21st 2013 5.
6. "Intel: New server needed for every 120 tablets sold" Dan Grabham, TechRadar, March 6th 2012.