VA and VistA: Can they be fixed?
Aisha Chowdhry | FCW |
July 27, 2016
...pivoting away from VistA, the agency's homegrown electronic health record system, would be a major shift for the VA. Former VA CIO Roger Baker said VistA is the only EHR designed by doctors, not technologists. "That is the real power of VistA, and it remains the real power of VistA," he added. The system, rooted in 1970s code, is designed to assist doctors in their daily work. Providers at the various VA medical facilities nationwide customize it for their specific needs.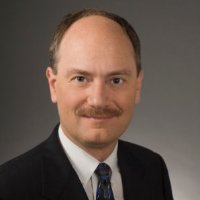 Roger Baker"Most people don't realize how all-encompassing VistA is as a hospital automation system," said Baker, who left the agency in 2013. "It supports [and] enforces so many of the medical processes in every VHA hospital and goes far beyond what a commercial EHR product does." One downside, however, is that modern "third-party software is difficult to integrate into VistA, and there are many parts of VistA that third-party products just can't replace," he added.
VistA also has a broad user base outside VA. And although that fact is unlikely to influence the department's decisions to any large degree, it does speak to the platform's value. The Open Source Electronic Health Record Alliance gives outside hospitals and health care systems commercial access to the VistA software. At an OSEHRA conference in late June, attendees praised VistA and expressed concern that the VA's commitment to the platform might be waning. Nancy Anthracite, an OSEHRA group leader, said "lots of lobbyists" are trying to move VA to a commercial product. But the real problem, in her opinion, lies in the agency. "The people who have just arrived into the VA don't know about VistA,...what they've got and why it would be hard to shift from it," she said, adding that it would be "very, very expensive" to tailor a commercial product to accommodate all the functionality that VA medical facilities need...
Open Health News' Take:
This is an excellent article that should be read by anyone who is interested in fixing the health IT crisis in the US. There reporter did a really good job of quoting from the real experts in modernizing VistA, virtually all of whom are outisde the VA and working with OSEHRA to provide a fully modern EHR for the more than 1,000 medical facilities around the world that have implemented VistA.