Image Sharing Grows in Importance
Joseph Goedert | Health Data Management |
August 29, 2016
Despite the importance of developing an enterprise medical imaging approach, the strategy requires the easy exchange of images, and achieving that interoperability is a major challenge, according to results of a recent survey. Still, more than half of 100 surveyed IT leaders in healthcare organizations say their facility has an enterprise imaging strategy—a major component supporting the move to interoperability—and 54 percent say specialists at their facility can electronically exchange images with patients, providers and referring sites.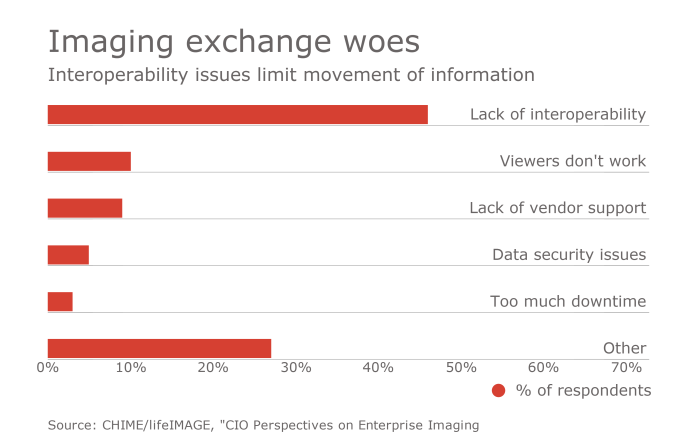 The College of Healthcare Information Management Executives, which represents IT leaders, recently surveyed 100 executives overseeing IT departments, with 76 percent of respondents using Epic, Cerner or Meditech electronic health records. In a report, CHIME notes that C-suite executives increasingly are concerned with improved interoperability, both within and outside of their organizations,. While, a shared PACS or virtual private network aggregates images from across an enterprise. "there's only one problem: Patients often don't receive care from only one network in a given region," the report for the survey noted.
Survey results resonate quite well with what Mach7 Technologies, a vendor offering an enterprise imaging platform, is seeing in the market, says Eric Rice, its chief technology officer. "When we talk to customers, it's not about archiving anymore, but about exchanging," Rice says. That's where the need for better interoperability across disparate technology systems and corporate entities becomes apparent, in order to permit access to a complete medical imaging history, according to CHIME...