Mission Essential Solutions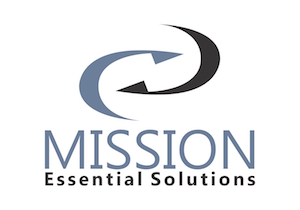 Mission Essential Solutions, LLC (MES), founded in 2013, offers technical solutions aimed at providing robust mobile capabilities needed for disaster response and recovery operations. It is a Service Disabled Veteran Owned Small Business (SDVOSB) with 8(a), Woman Owned Small Business (WOSB), and HUBZone partners.
James Murphy, President and Owner of the company, is a former Marine helicopter pilot with extensive experience in disaster relief operations, flying humanitarian missions in Puerto Rico and Sierra Leone, and supporting relief operations on the ground following an earthquake and a super typhoon in the Philippines.
Before retiring from the Marines in 2012, Mr. Murphy worked at the White House Military Office where he worked in disaster and emergency planning for the President of the United States and the Executive Branch Departments and Agencies. Following his retirement, Mr. Murphy established Mission Essential Solutions and began providing continuity operations planning consulting services to several critical federal agencies, including the Department of Homeland Security, the Federal Emergency Management Agency, the Department of Energy, the Federal Reserve Board, and the Architect of the Capitol. Mr. Murphy also provides advice to government agencies regarding rugged devices ideally suited for disaster response and continuity operations in harsh and austere operating environments.
"I think for many reasons, fixed, established continuity sites are no longer feasible for much of our continuity needs. We need to be distributed, lightweight, mobile, and flexible. We need to be able to bring everything we need for the mission with us, whenever we need to move, to wherever we end up. These needs coincide with operations at disaster sites." - James Murphy
Mission Essential Solutions has a network of partners that cover a wide range of operational needs common to natural disaster response and continuity sites following catastrophes. These solutions range from extremely rugged, lightweight and mobile network and satellite communications devices, to lightweight reverse osmosis water purification systems.
Together with its partners, Mission Essential Solutions can provide the equipment, training, and operators necessary to keep critical staff and operations running in the harshest environments. If lightweight, rugged, hybrid power units (solar panels, rechargeable batteries, multi-fuel generators), or radios and cellular base stations are required, Mission Essential Solutions, can provide the best devices suited for any operational environment or mission (more below).
James Murphy standing helicopter medevac duty in Southern Italy in 1997For disaster response scenarios, Mission Essential Solutions has technology partners who offer open source software tools for emergency medical and disaster response. These open source tools have been used successfully in thousands of disasters in "third world" countries and are more capable than tools currently in use in the United States. They range from electronic Health Record (EHR) systems to logistical response management, as well as GIS disaster mapping tools. These tools are currently being used to assist in the management and delivery of life-saving response services worldwide.
Because the software tools are open source, they are ideally capable of working under emergency conditions. These tools can be used and adapted by not only federal, state, local agencies, and local emergency responders for the situations they are facing, but also by the by the private sector. With tens of thousands of developers working on these open source disaster response tools, they are constantly being updated and improved.
Mission Essential Solution's team of partners have successfully used open source software tools to respond to:
Earthquakes
Volcanic eruptions
Flooding
Tsunamis
Landslides
Hurricanes and other storms
Wildfires
Infectious disease outbreaks and pandemics
Famine and aid for refugees
Rugged solutions for emergency medical response and disaster preparedness and response can be provided by MES partners and can be used in the civilian sector and by private companies.
Mobile/tactical computer platform/data center inside a carbon fiber airline carry-on case. At only 63 lbs, it has all of the route, switch, storage, and compute a site would need inside a single wheeled case. In combination with the Open Source Disaster Preparedness and Response tools it can be used to run an Open Source Electronic Health Record System and store all of the necessary data.
A lightweight (one lbs) communications device that can cross-connect dissimilar and incompatible radios and put them onto a single IP network that can be accessed anywhere an Internet connection is present. Military units use these devices to connect smartphones to radios, and radios to other radios that would otherwise be unable to communicate with each other. At a disaster site, this device enables emergency medical responders to communicate with firefighters, law enforcement, and urban search and rescue personnel to speak with FEMA or the National Guard without needing to buy new radios or carry radios from other agencies.
Mobile smartphone communication devices (the size of a deck of cards) that enable voice, text, and GPS location/maps when cellular networks are overloaded or unavailable.
Small lightweight, hybrid power units (solar panels, rechargeable batteries, auto-start multi-fuel generators) that can power dozens of workstations in the field for weeks or months
Portable water purification systems that range from units that can provide clean water to individual persons or families, to larger sets that can sustain small communities.
Mobile, ruggedized backpack satellite terminals and satellite modems that can bring Internet and telephone services from unaffected areas into a disaster zone.
Mobile, backpack cellular base stations and wireless routers that can rapidly build cellular and WiFi networks in affected areas where commercial infrastructure has been destroyed.
A Chemical, Biological and Radiological (CBR) over-pressurization collective protection system that can turn an existing 5,000 square feet of space into a CBR clean space in a few hours. It makes it possible for people in a potentially contaminated area to operate without masks or suits. It can be used in infectious disease outbreaks to provide isolation rooms for those who need to be quarantined. The system is in prototype testing for an Army program and is compact enough that it can be towed in a trailer.
Mobile physical security monitoring systems (CCTV, infrared cameras, radiological and chemical detection, access control) that can be used to rapidly setup a security surveillance perimeter for safeguarding personnel or supplies in low-security environments.
End-point cyber security solutions to protect laptops, tablets, desktops, and data center equipment from ransomware, data theft, and computer viruses (firewalls, intrusion detection/prevention, data-at-rest protection, data-in-transit protection, hardware encryption modules, encryption key management).
Cyber hardening ("binary stirring" and "kernel-level automatic integrity checking" and auto-correction) to protect against the latest most sophisticated hackers (supply chain attacks, zero day attacks, and memory corruption attacks).
Mission Essential Solutions exists to help federal, state, and local government agencies, as well as private sector companies and non-profit organizations, solve complex technological problems by delivering cost-effective tools, technologies, and experienced resources. We use agile processes, methodologies, and project delivery expertise to enable our clients to achieve resilient, effective, and sustainable operations by helping them implement high quality and cost-efficient hardware, software, and IT applications.
Mission Essential Solutions has carefully selected best-in-breed partners who are ideally equipped to provide technological solutions for continuity operations and mobile response organizations. From running an operations center or hospital in the field, to handheld communications devices carried by disaster responders, Mission Essential Solutions can help you get the equipment you need for your mission. We can provide you consulting services on disaster response and field communications, and we can help you procure the systems you require. We can also provide equipment training and operators to provide support at disaster sites.
If you would like more information about Mission Essential Solutions, continuity of operations and disaster response planning and preparedness, please contact us.
Webinars