Zoeticx Challenges Lack of Interoperability with Open Middleware Technology
"Bridging the Gap Between Medical Data and Better Patient Outcomes"
Thanh TranZoeticx is derived from the Greek word Zoe which means "life". The company is a Silicon Valley medical software start-up based in San Jose, CA that incorporated in 2012. The company has global development facilities and is in the process of raising Series A funding after a successful round of seed capital investments. Its partners include Nuance, AllScripts, Semantic, New Relic, Medsphere's OpenVistA, and Red Hat.
Filling Health Care Industry Gaps through Innovation
Zoeticx software bridges the gap between medical data and quality patient care. The company offers software solutions for the healthcare industry which are dedicated to Improving Patient Outcomes®, enhancing the quality of care, containing costs, and simplifying administration. These solutions offer an immediate increase in the quality of care by delivering the right information to the right caregiver at the right time, in a manner that can be easily understood. In making an impact on a new healthcare landscape ushered in by Obamacare and the medical industry itself, Zoeticx champions new paradigms through innovation with a patient-centric approach. Its solutions are unique to their ability to address these problems.
Patient-Clarity Platform
The Zoeticx Patient-Clarity platform is patient-centric healthcare software unique in its use of middleware technology to enable patient medical information to flow from diverse EHR sources, presenting patient medical data across the care continuum, transforming passive patient medical data into actionable information.
The platform integrates with hospital IT systems to improve patient outcomes. It enables interoperability for a patient's healthcare providers, delivering patient data where it is needed, when it is needed, bridging the gap between patient data and quality care.
The Zoeticx Patient-Clarity platform is supported by EHR gateways, converting EHR proprietary patient data to universal patient clinical data. It uses an Information-As-A-Service (IaaS) model to support on demand data access without duplication which increases system management costs and could result in patient privacy HIPAA challenges.
Its Health Oriented Architecture (HOA) leverages IT advancements from vertical market platforms, including System Oriented Architecture (SOA), mobile and cloud. This architecture also enables it to readily support the next generation of healthcare applications.
Smart notification services offer the ability to specify patient medical condition(s) for a target triggered event notification to a specific provider on a timely manner. Such notification service has built-in escalation rule to track, follow-up and ensure a medical condition would get providers' attention.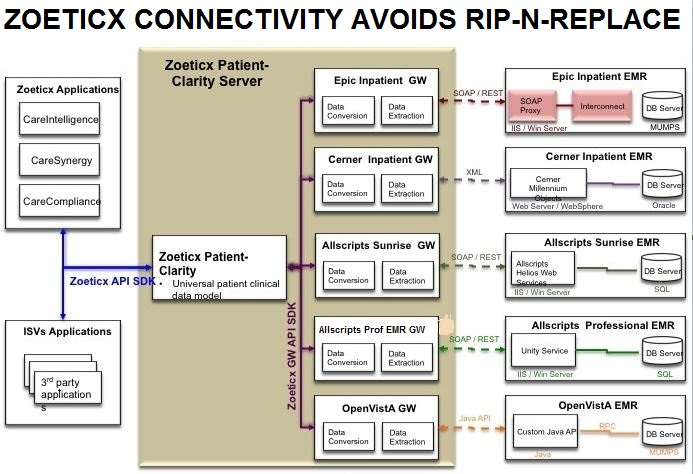 The platform leverages existing EHR deployed systems and can be easily "plugged into" existing or new technology infrastructures. It also addresses EHR interoperability for care operational environments without adding any additional database layers as compared with Healthcare Information Exchanges (HIE). It eliminates the costly practice of ripping and replacing duplicative IT systems when medical organizations consolidate, saving hospitals millions of dollars.
With its open API, Zoeticx reaches out to medical record application developers who can license its software and build apps that are no longer tied to EHR databases. This enables medical app entrepreneurs to focus more on innovative solutions by removing the challenges, costs and limitations associated with connecting to specific EHR systems.
Care Application Suite
Zoeticx's Care Application suite resides of the Patient Clarity Server and centers on its informative presentation dashboard of patient medical data. The suite focuses on reducing medical errors due to miscommunication and omission and are designed to improve patient outcomes in complex, critical care environments. It is designed for the operational care environment, aimed at addressing specific needs for both inpatient (ICU) and outpatient (ambulatory needs) and the ability to present a patient-centric view over the care spectrum.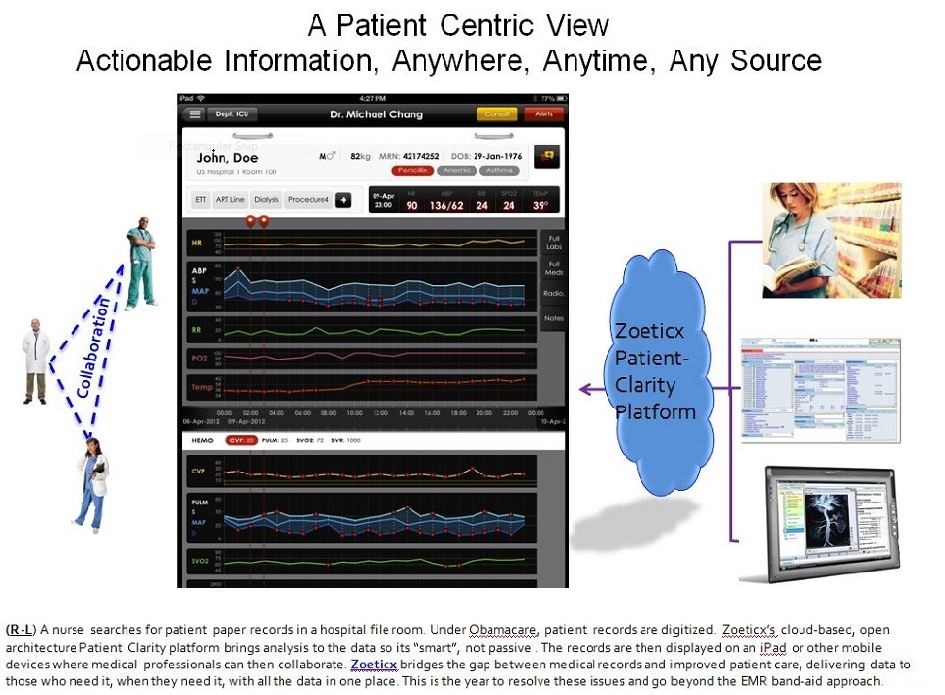 The Zoeticx suite of software applications include CareIntelligence, CareSynergy, CareHistory, ​CareCompliance and CareConnect.
CareIntelligence features the Dynamic Patient Dashboard, an electronic replacement for the nurse's flow sheet heavily relied upon in critical care environments. CareIntelligence allows easy navigation through medical information with an intuitive and easy-to-use interface to navigate every aspect of a patient's clinical status with a single tap. Information is presented in a time-correlated, insightful way for the best diagnosis and treatment.
CareSynergy offers the Dynamic Medical Messaging System, enabling better collaboration, communication, and follow through using software automation to minimize preventable medical errors. CareSynergy distributes patient-centered information at the right time, to the right care provider, for the right treatment. It provides proactive notification, tracking, and escalation, optimizing collaboration, clinical handoffs, and workflow.
CareHistory includes Dynamic Data Services, offering care providers a single, consolidated view of current patient medical information and health history seamlessly, regardless of data source and without the risks of data duplication.
CareCompliance features Dynamic Policy Management, automating quality policy enforcement and helping to more cost-effectively manage compliance and documentation requirements. CareCompliance also provides quality controls and audit trails to enable continuous process improvement and better coordination of care.
CareConnect offers outpatient care providers a universal dashboard designed for ambulatory purpose, regardless of the deployed EHR systems. Furthermore, it can be coupled with CareHistory to give outpatient care providers a complete view of patient medical records from multiple EHR sources.
These products are currently supported on iOS platform devices. Zoeticx delivers on these value propositions using the latest mobile, cloud, and SOA technology. The suite embraces ease of use mobility platforms and can be conveniently downloaded from the App Store for use on iPads and iPhones.