Deloitte Report: Open R&D Models Increase Chances for Late-Stage Success
Press Release | Deloitte |
June 15, 2015
Today's trends and advances in analytics could spur more collaboration among drug makers
PHILADELPHIA, June 15, 2015 /PRNewswire/ -- Today, as thousands of drug makers interact at the 2015 BIO International Convention, Deloitte is releasing a report suggesting that biopharmaceutical companies could have greater success if they collaborate with other organizations – even competitors – as part of an open innovation approach to research and development.
The report – "Executing an Open Innovation Model: Cooperation is Key to Competition for Biopharmaceutical Companies" – shows that drugs sourced via open innovation are three times more likely to achieve late-phase clinical success versus those cultivated under an in-house, closed-model approach.
Produced by Deloitte's Center for Health Solutions, the study also asserts that open innovation may emerge as a quicker and less expensive avenue for bringing therapies to market and that current trends may accelerate its adoption, including waning public funding and the need to cast a wider net for ideas and talent in overcoming a lack of understanding around the molecular pathways and triggers of complex diseases.
"It's fitting that with so many industry leaders rubbing shoulders in one location this week, this paper underscores the value of collaboration, of reaching across organizational borders in achieving a more successful and cost-effective approach to R&D," said Ralph Marcello, principal at Deloitte Consulting LLP, and the lead author of the report. "We hope to spark more conversation around the potential value of openness in drug development and the different forms it can take."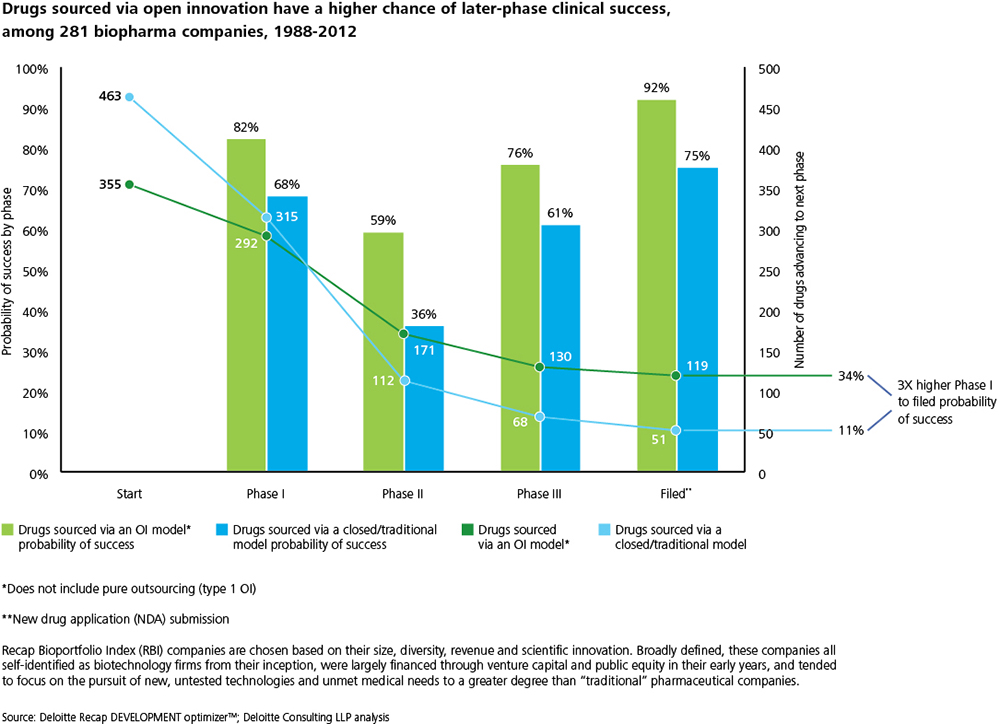 According to Matthew Hudes, principal, Deloitte Consulting LLP, and national practice leader for the biopharmaceutical industry, the industry may be primed for new approaches to R&D given that there are so many other changes in the sector. "Companies have entered an intense period of self-examination to determine what their core strengths are and what their strategy should be as the health system moves to a value-based model," said Hudes. "Part of this soul searching should include questions about how R&D gets done in a world more dependent on data analysis and population health."
The report presents a construct of four levels of open innovation, starting at the low end with "pure outsourcing" and moving up the scale with "licensing and variants," "collaboration and variants" and "open source," which involves companies sharing data, governance, operating procedures and risk in a highly-collaborative environment. (See report for detail on the four types.)
It also analyzed 281 biopharmaceutical companies from 1988 to 2012 in determining that drugs sourced via open innovation have a higher chance of late-stage success. More specifically, of 355 products developed under an open innovation mode, 119 were filed (34 percent), whereas out of the 463 pursued under a closed mode, only 51 were filed (11 percent).
Yet biopharma companies appear reliant on the more closed approaches. The report examined development alliances across the sector and found that fewer than 20 percent of products are being developed under the two higher forms of open innovation – "collaboration and variants" and "open source." Overuse of traditional R&D could cause a company to fall behind a creative competitor, while adopting a more open approach "provides the opportunity to access a large, diverse pool of ideas and experts which could spur product innovation, speed to market, reduce costs and increase competitiveness," stated the report.
Perspective is provided in managing five elements that make for a successful transition to open innovation: 1) network characteristics (number and types of partners); 2) talent; 3) intellectual property management and contracting; 4) participant contributions and impacts; and 5) governance.
"Research and development is one of those endeavors that benefits from a diverse mix of opinions, ideas and experiences," said Marcello. "I think life sciences organizations are primed to make significant moves in this direction, and that could produce a new level of benefit for patients and the health system as a whole."
About Deloitte's Life Sciences and Health Care Practice
Deloitte's life sciences and health care practice brings fresh insight to clients and industry stakeholders. Deloitte offers a distinctive menu of professional services delivered in an integrated approach designed to address all segments of the health plan, health care providers and life sciences industries. For more information, visit www.deloitte.com/us/healthsciences.
As used in this document, "Deloitte" means Deloitte LLP and its subsidiaries. Please see www.deloitte.com/us/about for a detailed description of the legal structure of Deloitte LLP and its subsidiaries. Certain services may not be available to attest clients under the rules and regulations of public accounting.
SOURCE Deloitte
RELATED LINKS
http://www.deloitte.com/us