28th VistA Community Meeting: VistA Community Coming Together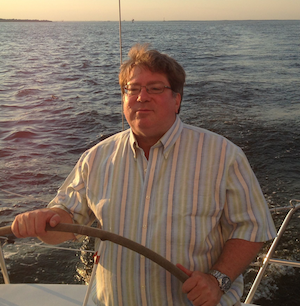 Roger A. Maduro Years of efforts dedicated to unifying the VistA community as well as VistA code development effort bore fruit during the 28th VistA Community Meeting (VCM) on January 17-19 in Sacramento, CA. This year's conference became a transition to a closer collaboration between the VistA community, the U.S. Department of Veterans Affairs (VA), and the non-profit OSEHRA organization. In effect, the conference was more of a workshop where the participants briefed each other on the latest technical developments as well as strategic efforts to increase collaboration. Open Health News will cover the developments at this conference in two articles. In this article, we will provide a high-level overview of the keynote presentations. In the next article, we will go through the technical presentations.
The conference, which took place at the University of California-Davis School of Medicine campus in Sacramento, gathered leading members of the VistA community. These included Dr. Paul Tibbits, Deputy CIO for Architecture and Design at the US Department of Veterans Affairs (VA), Dr. Seong Ki Mun, Chairman of the non-profit OSEHRA, Howard Hays, CIO of the Indian Health Service (IHS), Theresa Cullen, Chief Medical Informatics Officer (CMIO) of the Veterans Health Administration (VHA), Robert Wentz, CEO of Oroville Hospital, Stephen Oxley, Chief Medical Officer (CMO) of the Central Regional Hospital in North Carolina, Denise Lefevre, CIO of Oroville Hospital, Gail Graham, Assistant Deputy USH for Informatics and Analytics at the VA, and Chris Rhodes, Strategic Investment Management Office of Informatics and Analytics at the VA.
Nancy Anthracite, President and CMO of WorldVistA, which organized the conference, told Open Health News that "it was a fruitful and enjoyable conference." Anthracite was very appreciative of the efforts made by UC Davis for taking "special pains to accommodate us during ongoing construction." She added that the Medical School's "modern facilities couldn't be better both for comfort and audiovisual support." Anthracite said that the venue played a major role in the success of the conference, "with the conference hotel within easy walking distance of the meeting and the relaxed atmosphere, there is more time for conversation, brainstorming and understanding each other's issues and challenges." Given the great success of this meeting, Antracite added that "we are looking forward to another meeting on June 2-4 at George Mason University in Virginia."
VA Steps up to the plate
One of the major elements of the conference was the participation of key representatives from the VA. The VA created OSEHRA as a code repository and community organization that they could work with. As noted by Paul Tibbits and other speakers, the VA is very satisfied with the work that OSEHRA is doing. They are now taking the next steps. First is to streamline the intake of enhancements to VistA carried out by the community. The second is to establish the concepts of open source collaboration throughout the entire VA organization.
The VA's sessions began with a detailed presentation on the VA's future development path for VistA by Dr. Tibbits. According to Tibbits the VA is fully committed to VistA and the VistA community because of the capabilities of EHR innovation. Tibbits emphasized that VistA remains immensely popular with clinicians at the VA who believe that VistA "is a solid foundation" for the next iteration of VistA. This next iteration is called VistA Evolution and that is going to lead to VistA 4.0. Tibbits pointed out that the functionality of VistA 4.0 will meet all the requirements of the iEHR. That means that VistA 4.0 will meet all the requirements of the next generation EHR for the Department of Defense (DoD).
Tibbits publicly announced that Kitware co-founder Rick Avila has been fully engaged at the VA as Senior Advisor to CIO Stephen Warren. Avila will be advising the VA on its own internal open source strategy and has also been appointed as the co-chair of the VA/DoD Architecture group. This is major news as Avila built Kitware into one of the most successful open health companies today. Kitware has developed an entire array of open source imaging technologies that are being used in hundreds of applications.
Tibbits also outlined the efforts the VA is making to streamline the process of "code intake." Until now, code contributions have gone one way, from the VA to the VistA community. The code intake effort aims to bring the extraordinary enhancements that have been made to VistA in the private sector and bringing them back to VA's VistA. Later in the conference, Christine Rhodes, director of the VA's Open Source Management office gave a detailed presentation on the code intake process.
VA CIO Stephen Warren was originally going to be the keynote speaker. While he was unable to make it to the conference, he was able to deliver a message to the community through an interview with the weekly television program "Government Matters." The program is produced by Washington's WJLA-TV, an ABC News affiliate. During the interview, which aired while the conference was in progress, Warren was emphatic about VA's commitment to both building open source solutions and adopting contributions from the open source community. "It's core in our infrastructure," said Warren, "because we see the business value. . . . it's one of the reasons we actually facilitated the start of that community, OSEHRA."
Warren continued, saying that OSEHRA is a "vibrant organization" and pointing out that "individuals from across the nation who are using the same electronic healthcare delivery system -- VistA -- that we do at the VA. And what we're seeing is, lots of innovation is taking place out in the field. And we actually have a process in place to start bringing that technology that's developed out in the community into the VA, and using it as part of our healthcare delivery system."
Warren explained that even commercial software vendors understand the value of open source, "They see a huge community of individuals who can contribute to moving that technology forward with the focus on the service delivered."
OSEHRA matures as a non-profit community Organization
Dr. Seong Ki Mun, President, and CEO of OSEHRA gave a presentation on the organization's accomplishments and future plans. As laid out by Dr. Mun, the organization has matured and developed a fully functional community site and code repository system. The focus for 2014 is going to be the user community and marketing VistA to potential adopters. Dr. Mun talked about the upcoming meetings including a special 5-hour session on open source EHRs at the upcoming HIMSS conference in Orlando, Florida, on Sunday, February 23rd. In addition to Dr. Mun, there were several sessions at the conference detailing the progress made by OSEHRA in the past year.
There were two sessions on OSEHRA product and project management. These sessions were led by Mike Henderson, Director of Open Source Product Management at OSEHRA, Christopher Edwards, key code developer forOSEHRA and KRM Associates, and Denise Lefevre, CIO of Oroville Hospital. One of the most interesting parts of this presentation is the VistA Product Visualization Tool. This tool, which can be accessed online, provides a visual representation of all VistA core modules as well as different additional modules and components that have been developed by members of the VistA community. These panels provoked a very animated discussion with the audience.
Following the conference, Henderson wrote a blog post on the OSEHRA website with more details on the Visualization tool, now code-named "Vivian."
Oroville Hospital on how VistA is the ideal EHR for the age of Obamacare
One of the most interesting presentations at the conference was from Robert Wentz, CEO of Oroville Hospital. Wentz' presentation, titled "Obamacare: a provider's perspective. An opportunity for VistA and private sector Hospitals," outlined the clear advantages of using the VistA EHR as the United States moves towards a new health system based on Obamacare.
Wentz described the major changes currently taking place in the healthcare industry as a result of Obamacare, both in terms of financial issues as well as patient/consumer side. One of the key elements of this change is that while the profits of the private sector insurance industry are going to go up, reimbursements for the care sector, in particular, private insurance reimbursements, are going to go significantly down.
That means that some hospitals that are dependent on private insurance are going to see their revenues go down over the next three years while their patient load goes up. In order to stay in business, hospitals are going to have to rethink how to deliver healthcare. One of the key elements is becoming more efficient and cost effective in the care that they provide.
According to Wentz, Oroville Hospital had the good fortune of implementing and modifying VistA which allowed them to increase their efficiencies, capture more of the billing charges for their procedures, and significantly increase the quality of care provided. In 2013 it captured an additional $7 million in charges it would have missed without its EHR system. Those very same capabilities has allowed the hospital to closely track the quality of care it provides its patients, giving hospital staff a clear insight as to how they can provide better care. This has been reflected in the large number of quality of care awards it is earning, as can be seen in this page. As an example, Wentz pointed out Oroville Hospital ranked #3 in pulmonary care among hospitals in California, far ahead of expensive big-name hospitals. As a result, Oroville Hospital is in good shape to weather the major changes taking place in the industry.
This is not the case for hospitals that have implemented proprietary EHRs. As Wentz outlined, the costs of implementing and supporting proprietary EHRs is substantially higher than open source solutions.
Oroville Hospital, for example, has spent so far less than $8 million in the EHR component of their implementation for the 153-bed hospital and 20 clinics. In comparison, neighboring regional hospitals of similar size have averaged $25 to $30 million for basic EHR implementations. We should add, as OHNews readers are well aware, that due to the high failure rate of proprietary EHR implementations, many of these neighboring regional hospitals are in their second, and even third proprietary EHR implementations. We would also like to point out that Oroville's VistA implementation has more modules and capabilities than those proprietary EHRs,
Wentz then detailed the challenges faced by hospitals that have gone the proprietary route. He started this part of his presentation by mentioning that he has been receiving phone calls from CEOs of other regional hospitals in California, who are calling to complain that they are just now receiving multi-million dollar bills for license renewals and upgrades from their vendors. "We thought we had paid for this EHR," is the general comment that Wentz is hearing.
Key challenges faced by proprietary EHR adopters include:
High cost of proprietary EHR implementations.
High cost of recurring licensing and upgrade fees that amount to 20% or more annually of the original cost of implementation (an average of $5 million a year in licensing fees for small regional hospitals in California).
Continued poor adoption rate of low-usability proprietary EHRs by hospital staff.
Lack of integrated inpatient and outpatient systems (Health Information Exchanges (HIEs) are good but probably not good enough).
Cost Pressures.
Decreased provider payments from health plans.
According to Wentz, VistA is the solution to the technical challenges. But will other hospitals adopt this solution? Wentz sees a major sea change taking place in the industry as the lack of performance is putting executive jobs on the line. According to Wentz, "this is when things start to happen."
Wentz pointed out that there a shift taking place where hospital executives were getting Ferraris and giant bonuses from their boards for signing up with Epic and other big ticket EHRs to one where they are now being held accountable for their actions and many are being fired for having signed up with Epic and other high-priced EHRs. Wentz hopes hospital executives pay attention sooner rather than later. He said that 20% of the hospitals in California have closed down in the past decade. He sees that if things don't change, there will be another wave of hospital closures.
VistA 4.0
Theresa Cullen, Chief Medical Information Officer of the Veterans Health Administration (VHA) gave an in-depth presentation on the current status of "VistA Evolution," the plan for the future version of VistA. She started by outlining the key successes of the joint VA/DoD iEHR program. While DoD may take a different path to upgrading their current EHR (which includes a 25-year-old version of VistA called CHCS), the VA remains committed to the "VistA core" that focuses on the "delivery of scalable and modular EHR and HIT products" that will "Improve the quality, safety, efficiency and satisfaction in healthcare for Veterans." The figure below shows the future architecture.
These goals will be accomplished through:
Interoperability
Implementation of an open and extensible EHR system
Establishment of interoperability between VA and DoD EHR systems
Re-engineering of business processes in collaboration with users of health IT
A significant portion of Cullen's presentation was focused on interoperability and the framework that is going to be created to support "interoperability, care coordination, meaningful use, and partnerships." Cullen emphasized that Congress is focused on interoperability and data exchange between the VA and DoD. As a result, she took the time to elaborate on the three key concepts behind interoperability.
Technical (syntactic) Interoperability
Allows computers to reliably exchange data, so it can be read at least by humans.
Accomplished with messaging protocols and data formats.
Semantic Interoperability
Allows computers to unambiguously and consistently determine the meaning of the data for presentation and decision support.
Accomplished with standardized terminologies like ICD10 and SNOMED.
Process Interoperability
Allows computers to exchange and track workflows as patients or orders move between organizations; includes care plans.
Accomplished with standardized business process notation or workflow protocols.

Ex. 1: sending prescription requests from VistA to community pharmacies;
Ex. 2: tracking care plans for follow up on cancer suspicion from X-ray
Ex. 3: continuing polytrauma care plans as patients move between VA and DoD.
The rest of Cullen's presentation was focused the steps the VA is going to take through their VistA Evolution program to achieve interoperability in the next 4-years.
Meeting Meaningful Use 2.0 Requirements
One of the most interactive sessions of the conference was the session on Meaningful Use 2.0 requirements and testing. During this session, Howard Hays, CIO of the Indian Health Service (IHS) outlined the efforts that IHS is making to ensure that their VistA-derivative, RPMS, is compliant with the MU2 regulations. According to Hays, this is IHS' priority for 2014. He pointed out that facilities using RPMS received more than $90 million in MU1 incentive payments. He also pointed out that the use of RPMS is growing rapidly in many places around the world including Hawaii, Guam, Saipan, and the Marianas Islands.
The rest of the presentation was a detailed review of the efforts that IHS is making to fulfill te MU2 requirements. This led to a very lively back and forth with the audience where many members of the VistA community are working hard to make sure that VistA iteself also meets the MU2 requirements. A lot of the work that is being done by IHS can be leveraged by the VistA community and vice-versa.
This session was a clear illustration of the advantage that an open source community has over proprietary vendors. Black Book Rankings estimates that close to 95% of the more than 1,000 current EHR companies are going to be out of business in 5 years. Their customers are going to be left holding the bag with discontinued EHR products. In the meantime, both IHS and the VA are going to still be running VistA and RPMS, the VistA community will still be working with them and enhancing VistA and RPMS for private sector use. VistA implementers will still have a fully functional and supported EHR. And that is one of the reasons, as Wentz outlined during his presentation, that VistA is not only the lowest-cost solution, it is also the lowest-risk solution.