600-bed NHS Hospital in England Goes Live with Open Source Electronic Record for Patients
Press Release | IMS MAXIMS |
October 7, 2015
Taunton and Somerset NHS Foundation Trust works with software pioneer IMS MAXIMS to co-deliver digital integrated care record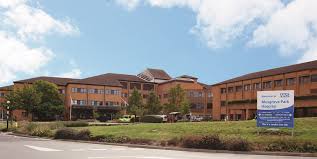 Taunton and Somerset NHS Foundation Trust Taunton and Somerset NHS Foundation Trust has become the first NHS hospital in the UK to go live with an open source electronic patient record (EPR), a landmark move expected to help staff deliver better patient care through improved access to information.
The trust has successfully rolled out the system in A&E, theatres, outpatients and the hospital's 30 wards with the support of IMS MAXIMS, after the software firm released the code for its open source EPR technology to the NHS just over a year ago. Up until now NHS trusts have depended on proprietary software in order to record and manage patient information.
Taunton and Somerset NHS Foundation Trust has now made a significant move away from this approach and is using software called openMAXIMS to create accurate, accessible and integrated care records that will allow staff to support safer and more efficient care for patients attending the 600-bed Musgrove Park Hospital.
NHS England has endorsed an open software approach, saying it offers flexibility and freedom to NHS organisations to purchase systems, share innovation, speed up technology developments and foster more productive relationships between customers and suppliers[1].
Open source technology has also been praised for encouraging doctors and nurses to become engaged in the deployment of major IT systems so that IT teams and developers can together design and implement software that meets the real clinical needs of the NHS organisation using it.
Malcolm Senior, Director of Informatics at Taunton & Somerset NHS Foundation TrustDr Chris Swinburn, clinical lead for the project at the trust, said: "Our clinicians have been involved right from the start, from influencing the procurement of the software right through to the design of the system to suit our clinical needs and processes. "We wanted to work with IMS MAXIMS because its system has been created over a long time within an NHS environment and developed alongside clinicians. "Following the go-live, we believe we have developed a robust EPR system that can be replicated in other hospitals. This can deliver wide reaching benefits across the NHS."
Malcolm Senior, director of IT at the trust, said: "With the NHS looking to reduce the projected £30bn a year funding gap by 2020/21[2], there is now, more than ever, a clear requirement to make the most of precious hospital resources. "For me, openMAXIMS represents an affordable, flexible system that will deliver the functionality we need. Our clinicians have found it intuitive to use and have taken to it very well."
Key functionality includes the patient administration system that will record the demographic details, scheduling and referral to treatment (RTT) status of the trust's 500,000 patient visits each year. In addition, theatre and anaesthetic departments will be able to update records digitally, much faster than previous paper-based processes.
The new technology has provided an opportunity to make processes for admission, transfer and discharge of patients more efficient and coordinated with the help of real-time bed management and discharge planning. A reduced dependency on paper notes means the trust is working towards the national ambition within NHS England's Five Year Forward View[3] to ensure electronic health records are fully interoperable, supporting health secretary Jeremy Hunt's challenge for the NHS to be paperless by 2018[4].
Richard Jefferson, head of programme commissioning at NHS England, said: "We are delighted to see the first deployment of openMAXIMS going live in an NHS hospital. This represents a landmark moment in the use of open software in the NHS and validates the idea that open source can play a significant role alongside proprietary offerings.
"The growing number of open source communities such as those within NHS England's Code4health[5] initiative are an exciting opportunity to deliver innovation, quality and value through collaboration and are putting clinicians at the heart of decisions. openMAXIMS is a great example of this, and essential to its success has been the dedication and true partnership between Taunton and Somerset NHS Foundation Trust and IMS MAXIMS."
Shane Tickell CEO at IMS MAXIMSPatient data across emergency department, theatres, wards and outpatient departments were migrated from existing systems into the new openMAXIMS EPR within 48 hours. The system has laid the foundation for the trust to move towards hospital-wide paper-lite working, starting with outpatient departments before moving on to developing apps for ward staff, clinical notes, e-prescribing and interoperability with other NHS IT systems county-wide.
Malcolm Senior explained: "We have outpatient clinics in multiple settings around the county and we are currently moving over 60,000 sets of patient notes a month. "We want to move to a situation where clinicians can do everything on the computer including viewing patient records, ordering tests, prescribing medication, making appointments and recording notes."
The go live of openMAXIMS was preceded by an extensive training programme for 2,500 hospital staff including clinicians and administrative users. In addition a command centre with experts from IMS MAXIMS and the trust, as well a senior managers, was on hand 24/7 during the go live period.
Shane Tickell, CEO of IMS MAXIMS, said: "This is a significant step for the next generation of clinical software. Technology disruption is not a phrase closely associated with healthcare but this proves there is a place for proven, safe, flexible software to add considerable clinical and administrative benefit to hospitals and their neighboring care organisations."
— Ends —–
Notes to Editors
Technical information about the project
The core functionality introduced in phase one of the Taunton and Somerset NHS Foundation Trust openMAXIMS implementation includes:
Patient administration system functionality
Patient master index and patient registration
Referral triage and management and Choose and Book integration
Scheduling, elective waiting list and appointment correspondence
Outpatients, including patient check-in via kiosks and electronic outcome tracking
Case note tracking
Admission, transfer and discharge, real-time bed management and discharge planning
Referral to treatment time and cancer pathway monitoring
Clinical coding and integration with Medicode Encoder
Emergency department
Theatre management and anaesthetic record keeping
Nursing and allied healthcare professional care planning
Operational and management reporting and contract dataset production.
About Taunton and Somerset Foundation Trust
Taunton and Somerset NHS Foundation Trust includes Musgrove Park Hospital, the largest acute hospital in Somerset serving a population of over 340,000 as well as providing some specialist and tertiary services for the whole of Somerset with a catchment population of 544,000. It has an annual budget of nearly £246.7 million. The hospital has nearly 600 beds, 30 wards, 15 operating theatres, a fully equipped diagnostic imaging department and a purpose built cancer treatment centre. The trust employs over 4,000 staff.
openMAXIMS CIC
Taunton and Somerset NHS Foundation Trust is one of three founding organisations, along with St Helens and Knowsley Teaching Hospitals NHS Trust and Blackpool Teaching Hospitals NHS Foundation Trust, of a Community Interest Company acting as custodians for source code of the openMAXIMS EPR suite. The organisations aim to help other Trusts looking to use the software by providing the same level of assurances as with a proprietary vendor, with Trusts able to adapt the software for their own needs and share with other members of the CIC.
About IMS MAXIMS
IMS MAXIMS is an electronic patient record provider working towards better, safer patient care. Specialists in developing clinical and administrative software solutions for healthcare providers, IMS MAXIMS currently supports more than 150 organisations, 11 million patient records in the UK, and 1.9 million patient records in Ireland, approximately 50% of the population, as well as 20,000 users of IMS MAXIMS products.
Available as proprietary or open source software, MAXIMS is at the heart of the clinical and administrative life of everything from large UK and Irish hospitals, to small specialist independent clinics. It gives patient data to clinicians in exactly the format they need, and allows it to be shared with colleagues and updated in real-time. Find out more about IMS MAXIMS' open source solutions at: http://www.imsmaxims.com/opensource Follow IMS MAXIMS on Twitter
Media contacts
For further information or to arrange an interview with IMS MAXIMS or the trust, contact:
Chris Marsom, Highland Marketing on behalf of IMS MAXIMS
Tel: +44 (0) 1877 332 719
Mob: +44 (0) 7788 393 985
Email: [email protected]
[1] http://www.england.nhs.uk/digitaltechnology/info-revolution/open-source/
[2] http://www.england.nhs.uk/ourwork/futurenhs/5yfv-exec-sum/
[3] https://www.england.nhs.uk/wp-content/uploads/2014/10/5yfv-web.pdf page 32
[4] https://www.gov.uk/government/news/jeremy-hunt-challenges-nhs-to-go-paperless-by-2018–2
[5] https://code-4-health.org/