OSEHRA 2017: Microsoft, OpenStack, IBM Support VistA in the Cloud
Note: After publishing the article we received several emails and phone calls from great friends of Open Health News who suggested that the article was covering too many themes in one article, so we have decided to break it up into three parts. This is the first part. The second part can be found here. It is focused on the breaking news that Microsoft, OpenStack, and IBM are now working with the VistA community to create a cloud version of VistA. Roger A. Maduro, Publisher and Editor-in-Chief.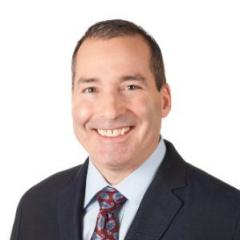 David Perara
This year's OSEHRA 2017 Open Source Summit proved to be another major milestone in the transition from locked-in vendor-controlled health information technology to an open solutions approach. One of the major news stories at the summit was the decision by Microsoft to join OSEHRA and collaborate with the Open Health community. Another major presentation was that of Martin Rice, Director of the Division of State System for the Centers for Medicare and Medicaid Services (CMS) and Clyneice Chaney, Principal Systems Engineer. In their presentation (video* and power point*), Rice and Chaney described how CMS is transitioning to an open/modular approach to State Medicaid IT systems. This has been a major topic we have covered in Open Health News as can be seen here and here.
Microsoft, OpenStack, and IBM Step into the Open Health Arena
The Summit had a series of sessions where Microsoft, OpenStack, IBM Federal and Red Hat unveiled their open source strategies for health IT, including how they are leveraging the cloud to accelerate innovation in healthcare. Open Health News was the first publication to report on this major development in this article. The presentations centered around the project to migrate the U.S. Department of Veteran's Affairs (VA) VistA electronic health system to the cloud using the Electronic Health Management Platform (eHMP). The project was launched three months ago.
OSEHRA 2017 - Mike O'Neal, Jonathan Bryce, Susie Adams, Jonathan Entwistle - Credit Megan MurrayThere were five separate sessions addressing the VistA/eHMP cloud project. The project was publicly unveiled during the first plenary session of the conference on June 14. The session was moderated by Mike O'Neill, Chairman of the Board of Directors of OSEHRA. Plenary speakers included:
Susie Adams, Chief Technology Officer, Microsoft Federal
Jonathan Bryce, Executive Director, OpenStack
Jonathan Entwistle, Big Data Platform Sales and Engineering, IBM Federal
Some of the interesting highlights from three presentations are provided below. Complete audio, video, and presentations are available on the OSEHRA website*. Microsoft is committed to supporting open source software and platforms in the cloud. OpenStack has committed to developing a healthy open source ecosystems since inception. IBM committed to supporting the open source Apache Foundation in 1998 with the latest Spark framework. The number of open source projects has grown exponentially and continues to expand. The future is sure to bring improved efficiencies and capabilities to the market from Microsoft, OpenStack, and IBM.
The video of the entire industry open source session can be seen here*.
Susie Adams, Chief Technology Officer of Microsoft Federal gave a presentation titled See Why Microsoft Loves Linux and Open Source. According to Adams, since 2009, Microsoft has been on a journey with open source.
She told the audience that Microsoft contributes to open source projects and uses open source code in value added services in the Azure cloud. She added that Microsoft is a major contributor to the Linux and has released major projects, such as .NET as open source.
Adams emphasized, "We (Microsoft) are all in with open source moving forward," arguing that for Microsoft to be relevant in the fourth industrial revolution it must evolve. Microsoft is focusing on three areas: cloud, mobility, big data/machine learning. The Azure cloud is an open platform and must be able to run anything the customers want, like Red Hat, Ubuntu, OpenSUSE, Apache Web Server and many more. Microsoft wants to support anything that is mainstream.
Jonathan Bryce, the Executive Director at the OpenStack Foundation gave a presentation titled Playing for an Open World. Jonathan explained, all organizations expect the IT department to keep costs low up front and scale globally and most IT customers demand the departments provide more services at with a lower budget. To show the primary business drivers for using OpenStack, he presented results from a recent survey showing (in order of importance) cost (⅔ of respondents said cost was the #1 driver), operational efficiency, and accelerating innovation as the top three.
Bryce continued to provide an overview of OpenStack's market adoption stating that over half of fortune 100 companies and many government organizations use OpenStack. He also described that most customers use a hybrid cloud to manage costs between the less expensive private cloud and more expensive public cloud for appropriate work loads. The fact that IT infrastructure needs to cost less and do more and open source is important for cloud and healthcare has lead to widespread adoption. Bryce illustrated the breadth of the OpenStack community, which includes over 75,000 members in 186 countries and has projected revenue of $3.4 billion by 2018.
From its inception, he explained, OpenStack has focused on developing an open ecosystem with extensive collaboration. Using the example of the Square Kilometer Array project, he explained the amount of data we are collecting and analyzing has skyrocketed beyond anything we have seen in human history. The project will soon produce 5,000 petabytes of data per day to start and up to 100,000 petabytes in ten years. Bryce concluded with a simple model showing Open source is a process where users and developers are working through the entire software development cycle in what he calls a Platform Ecosystems with powerful software, successful users, and an innovative ecosystem.
Jonathan Entwistle, Big Data Platform Sales and Engineering at IBM Federal​ gave a presentation titled Open Source: Hadoop, Spark & More. Jonathan opened with an overview of IBM's Watson platform and stated IBM is committed 100% to open source solutions. He continued given the rate of innovation happening within the data and analytics space there is no one company that can keep up. Jonathan stated, "the future of analytics is going to be open source" He said that there has been an explosive growth in Open source solutions in the enterprise. According to Entwistle, the 2016 Future of Open Source Survey, companies report a 65% increase in the use of open source. Entwistle said that the key drivers for the dramatic increase in the use of open source are:
No vendor lock-in,
Quality of Solutions,
Ability to customize and fix
Entwistle emphasized that over 90% of the survey respondents said that using open source improves efficiency, interoperability and innovation.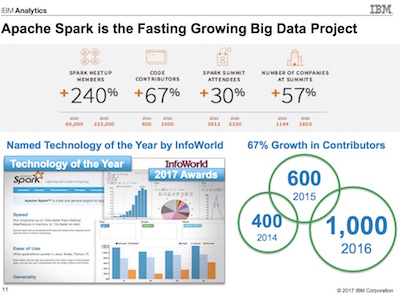 Entwistle outlined IBM's rich history with open source that started in 1999 when IBM collaborated with the Apache community and settled on the Apache web server as the core platform for their own web server. IBM then founded the Eclipse Foundation. He continued reviewing that IBM has supported three technology centers: Linux, Java and Spark. He explained that Hadoop is 100% open source and you can store all types of data and Hadoop is changing as quickly as the analytics space. Entwistle provided a simple definition about Spark's works, it adds memory to the data allowing for very fast analytics running in and around the Hadoop ecosystem.
He touted Spark as the fastest growing big data project. He passionately described there are a lot of opportunities to get into analytics without the multi-million dollar price points. Entwistle answers the question, How is Hadoop with Spark being used? With three main areas: cost savings, analyzing unstructured data, true data mining. In conclusion, he promotes learning more about analytics through the Big Data University and the Data Science Experience will help anyone learn more about data analytics for free.
VistA Meets the Cloud
In addition to the plenary session, there were three other sessions at the OSEHRA conference focused on migrating VistA to the cloud. One was a roundtable session and the other two sessions featured presentations by 8 speakers, including Steve Rushing from Georgia Tech. Rushing has played a critical role in the development of eHMP. His team's efforts are outlined in this post from Georgia Tech. A copy of Rushing's presentation can be found here.
Gurujeet Khalsa, Cloud Data Architect, Microsoft's Federal group was the moderator of a panel on VistA on the cloud. Khalsa has a great deal of experience on Azure cloud solutions and how the Azure platform can be leveraged for health IT. Jamie Duncan from Red Hat spoke about his experience in cloud and open source solutions in the Federal government. He also talked about cyber security issues regarding cloud deployments.
Deanne Clark from DSS discussed how the cloud can be leveraged to deploy VistA across large health systems. Clark has been playing a key role in the implementation of VistA across mental health facilities in the State of New York where it is being implemented in 24 hospitals and 300 clinics. A cloud version of VistA would significantly facilitate large-scale deployments of VistA. More details on the State of New York's VistA deployment were provided later in the day by Gerald Engel the Chief Medical Informatics Officer of the New York State Office of Mental Health. Video of that session can be seen here* and the power point can be downloaded here*.
The round table led a spirited discussion on shifting VistA and health IT solutions to the cloud.
Migrating VistA to the cloud using eHMP would be a game changer for the healthcare industry. The VistA/eHMP project is yet one more piece of evidence of how open source is winning the technology race in the healthcare industry. Evidence is there for anyone to see.
*The videos of the OSEHRA 2017 Summit presentations as well as the power points, are available to the public but require registration.